China makes historic move to allow Xi to rule indefinitely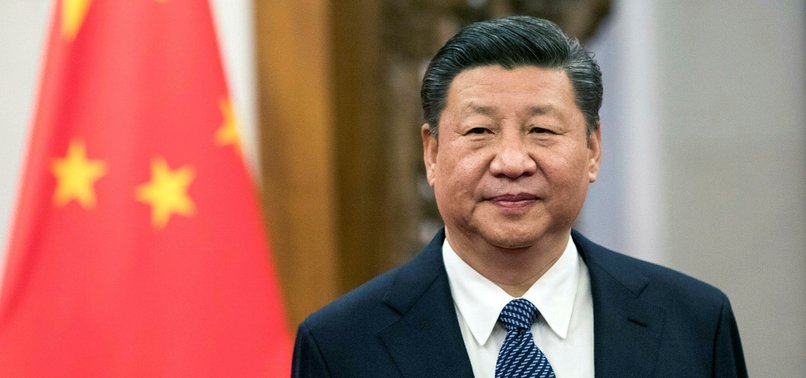 China's parliament voted Sunday to abolish presidential term limits, clearing the path for President Xi Jinping to rule for life. The almost 3,000 delegates to the country's rubber-stamp legislature passed the measure as part of a package of changes to the country's constitution, with 2,958 voting for, two against and three abstaining.
China's rubber-stamp lawmakers on Sunday passed a historic constitutional amendment abolishing a presidential two-term limit that will enable Xi Jinping to rule indefinitely.
The amendment upends a system enacted by former Chinese leader Deng Xiaoping in 1982 to prevent a return to the bloody excesses of a lifelong dictatorship typified by Mao Zedong's chaotic 1966-1976 Cultural Revolution.
"This marks the biggest regression in China's legal system since the reform and opening-up era of the 1980s," said Zhang Lifan, an independent Beijing-based political commentator.
"I'm afraid that this will all be written into our history in the future," Zhang said.
Voting among the National People's Congress' nearly 3,000 hand-picked delegates began in the mid-afternoon, with Xi leading members of the Communist Party's seven-member all-powerful Politburo Standing Committee in casting their votes. He placed his orange ballot paper in a red box bearing the official seal of state placed front and center on the stage inside the cavernous hall.
Rank-and-file deputies then rose to vote on the floor of the hall as jaunty instrumental music played. Ten minutes later, the process had ended and delegates were asked to return to their seats while the votes were counted.
Shortly after 3:50 p.m., the results were read out over the public address system and flashed briefly on a screen in the hall. The delegates voted 2,958 in favor, with two opposed, three abstaining and one vote invalidated.
"The constitutional amendment item has passed," the announcer declared to polite applause.
The 64-year-old Xi appeared to show little emotion, remaining in his seat with other deputies to listen to a report on the work of the congress delivered by its outgoing chairman.
The slide toward one-man rule under Xi has fueled concern that Beijing is eroding efforts to guard against the excesses of autocratic leadership and make economic regulation more stable and predictable.
The head of the legislature's legal affairs committee, Shen Chunyao, dismissed such concerns as "speculation that is ungrounded and without basis."
Shen told reporters the party has accumulated extensive experience over its 90-year history that has led to a system of orderly succession to "maintain the vitality and long-term stability of the party and the people."
"We believe in the future that we will continue with this path and discover an even brighter future," Shen said.
The amendment also inserted Xi's personal political philosophy into the preamble of the constitution and phrasing that emphasizes the leadership of the ruling Communist Party.
"It is rare nowadays to see a country with a constitution that emphasizes the constitutional position of any one political party," said Zhang, the political commentator.
In a sign of the issue's sensitivity, government censors have aggressively scrubbed social media of expressions ranging from "I disagree" to "Xi Zedong." A number of prominent Chinese figures have publicly protested the move, despite the risk of official retaliation.
Officials have said the abolishing of the presidential term limits is aimed only at bringing the office of the president in line with Xi's other positions atop the Communist Party and the Central Military Commission, which do not impose term limits.
While some scholars questioned the wisdom of the move, others said they saw value in sending the message that Xi would be setting policy for many years to come.
"In fact, the more Xi Jinping's position is consolidated and the longer his governing time is to last, the more secure it is for the continuity of the policies," said Liu Jiangyong, a professor at Renmin University's School of International Relations.
The move is widely seen as the culmination of Xi's efforts since being appointed leader of the party in 2012 to concentrate power in his own hands and defy norms of collective leadership established over the past two decades. Xi has appointed himself to head bodies that oversee national security, finance, economic reform and other major initiatives, effectively sidelining the party's No. 2 figure, Premier Li Keqiang.
It has crushed faint hopes for political reforms among China's embattled liberal scholars and activists, who now fear even greater repression. China allows no political opposition in any form and has relentlessly persecuted independent groups seeking greater civic participation. Leading Chinese officials have meanwhile repeatedly rejected any chance of adopting Western-style separation of powers or multiparty democracy.
To be sure, Xi's confident, populist leadership style and tough attitude toward official corruption have won him a significant degree of popular support.
Zhao Minglin, 32, a vice president of an investment firm in Beijing, said it was easier for Xi to carry out his ambitious vision of raising living standards in China if more power were concentrated in his hands.
"I will definitely support this constitutional amendment and this government. This is a powerful and strong government," Zhao said. He added, however, that he was concerned that the public discourse lacked a space for dissenting voices.

XI: FROM GRAFT-FIGHTING GOVERNOR TO PRESIDENT FOR LIFE
Xi Jinping has joined the pantheon of Chinese leadership two decades after bursting onto the scene as a graft-fighting governor who went on to earn comparisons with Mao Zedong in his quest for unrestricted power.
The rubber-stamp parliament further enhanced Xi's considerable power on Sunday when it approved a constitutional amendment abolishing presidential term limits.
The move allows the 64-year-old Xi to remain in power for as long as he wishes, ruling as a virtual emperor, and is the latest feather in the cap of a Communist "princeling" who is re-making China in his own image.
Xi, who was given a second term as the party's general secretary at the five-yearly party congress in October, has amassed seemingly unchecked power and a level of officially stoked adulation unseen since Communist China's founder Mao.
Even though his father Xi Zhongxun -- a renowned revolutionary hero turned vice premier -- was purged by Mao, Xi has remained true to the party that rules with an iron fist and over which he reigns supreme.
Xi is the first Chinese leader to have been born after 1949, when Mao's Communist forces took over following a protracted civil war.
The purging of his father led to years of difficulties for the family, but he nevertheless rose through its ranks.
Beginning as a county-level party secretary in 1969, Xi climbed to the governorship of coastal Fujian province in 1999, then party chief of Zhejiang province in 2002 and eventually Shanghai in 2007.
That same year, he was appointed to the Politburo Standing Committee.
Following Mao's disastrous economic campaigns and the bloody 1966-76 Cultural Revolution, the Communist leadership sought to prevent further chaos by tempering presidential power through a system in which major personnel and policy decisions were hashed out by the ruling Politburo Standing Committee.
The move helped prevent political power from becoming too concentrated in the hands of a single leader but was also blamed for policy indecision that led to growing ills such as worsening pollution, corruption and social unrest.
But "Xi Dada" ("Big Uncle Xi"), as he has been dubbed by Communist propaganda, has broken sharply with that tradition since taking over as president in 2013 and now looms over the country in a deepening cult of personality.
He has used crackdowns on corruption and calls for a revitalised party to become the most powerful Chinese leader in decades.
Fighting graft and upholding party leadership were already central to him when he spoke to AFP in 2000.
At the time, Xi vowed to root out corruption following a $10 billion smuggling scandal, but ruled out political reform to confront the problem, saying he would work within the one-party structure and system of political consultation and "supervision by the masses".
"The people's government must never forget the word the 'people' and we must do everything we can to serve the people, but to get all the government officials to do this is not easy, in some places this is not done very well and in other places it is done very badly," Xi told AFP.
- 'CHAIRMAN OF EVERYTHING' -
Xi's face now graces the front page of every paper in the country, while his exploits and directives headline each night's evening news.
Shops sell commemorative plates and memorabilia with his image alongside Mao's and he has accumulated so many political and military titles -- from president, to Central Military Commission chairman and party "core" -- that he has earned the nickname "Chairman of Everything".
The Communist Party's power-broking congress in October confirmed Xi's induction into the leadership pantheon alongside Mao and market reformer Deng Xiaoping by writing his name and political ideology into the party's constitution.
While calling for China's "great rejuvenation" as a world power, Xi has cultivated a personal image as a man of the people who dresses modestly and buys his own steamed buns at an ordinary shop.
Following a divorce from his first wife, Xi married the celebrity soprano Peng Liyuan in 1987, at a time when she was much more famous than him. The couple's daughter, Xi Mingze, studied at Harvard but stays out of the public eye.
But Xi has presided over a tough crackdown on civil society and freedom of speech that belies the chummy image -- and he tolerates no ridicule or slander of his person.
Social media users who have dared to compare his round mien to that of the affable Winnie the Pooh have found their posts quickly deleted, and a man who referred to him as "Steamed Bun Xi" -- a knock at his breakfast publicity stunt -- was jailed for two years.