Turkish, Austrian top diplomats try mending ties by omitting EU issue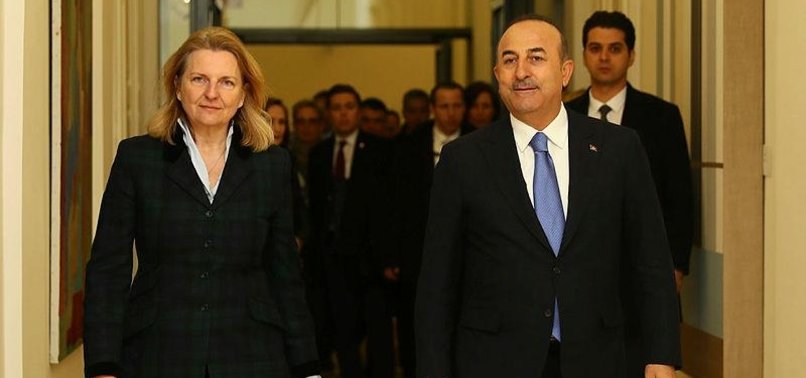 Austria and Turkey have agreed to disagree on Turkey's accession to the European Union for the time being as they mend their frayed ties, the country's chief diplomats said Thursday in Vienna.
Austrian Chancellor Sebastian Kurz is one of Turkey's leading critics in Europe. Ties with Ankara soured when he demanded the end of the country's EU accession talks during his time as foreign minister.
"We mainly have to try to take steps to rebuild confidence," Turkish Foreign Minister Mevlüt Çavuşoğlu said, after meeting his Austrian counterpart Karin Kneissl.
"We very deliberately omitted the EU accession issue" during the meeting, Kneissl said at a press conference of the two chief diplomats.
However, Çavuşoğlu indirectly criticized Kurz for having stoked resentment against Turkey.
"Politicians must not use our diplomatic relationship in a populist way," he said. "I expect Austria to be objective, honest and fair" when assessing Turkey.
Turkey has pushed back against Austria by creating obstacles for Austrian officials who take part in NATO's partnership programme.
On Thursday, Çavuşoğlu announced that Ankara has decided to lift its veto on this issue.
Kneissl signalled possible flexibility towards Austrian citizens with Turkish roots who also hold Turkish passports. Vienna had previously planned to crack down on dual citizenship, which is generally not allowed under Austrian law.
In January, when Kneissl visited Istanbul, Çavuşoğlu announced that Austrian archaeologists will be allowed to return to the ancient Ephesus site, after Turkey told them to leave amid the diplomatic spat in 2016.