Assad regime ex-prisoner pleads for jailed Syrian women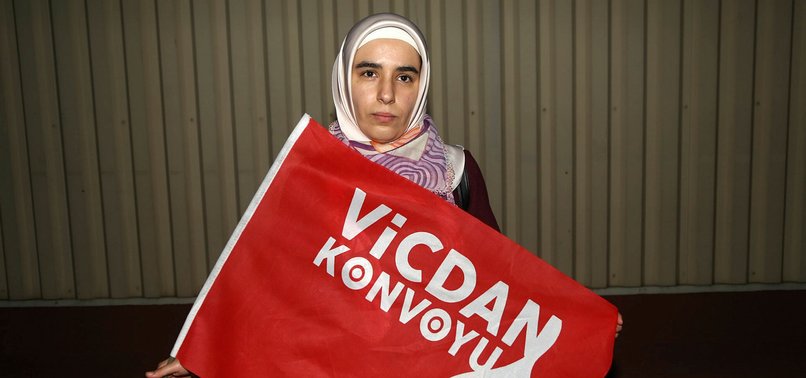 In an exclusive interview to Turkey's state-run agency, Nur Alhuda Hijazi -- a female survivor of jail torture -- has spoken about the torture and sexual harassment which she herself had to endure during her one-month long incarceration incarceration at a prison in Damascus.
Thousands of Syrian women continue to languish in prisons in Assad regime-controlled areas of Syria, suffering unimaginable horrors, as the world marks International Women's Day, a female survivor of jail torture has told Anadolu Agency.
In an exclusive interview to Anadolu Agency, Nur Alhuda Hijazi spoke about the torture and sexual harassment that she herself had to endure during her one-month long incarceration at a prison in Damascus.
Hijazi is one of more than 2,500 participants in an all-female international convoy that hit the road in Istanbul on Tuesday with a view to raising awareness on women imprisoned by the Bashar al-Assad regime.
The International Conscience Convoy comprising people from over 50 countries is expected to reach its final destination in Turkey's southern Hatay province near the Syrian border later Thursday.
Hijazi said the convoy's message of being a "voice of the oppressed women in Syria" was vital for "the Syrian sisters still remaining in this hell".
Speaking in English about her own ordeal that began on Sept. 25 in 2012, Hijazi recalled how she had been arrested and brought to the regime's notorious prison in Damascus, known locally as 215.
"During a military security trap [set up] by Syrian intelligence, the soldiers abducted me and pushed me inside their car in the street in front of hundreds of people," she said.
Her torture began in the car itself. Soldiers repeatedly sexually harassed her and insulted her while she was being driven to the prison, she said.
Hijazi -- an economics graduate who used to do relief and media-related work in 2010 before war began in her country in 2011 -- said she later learned that the reason for her kidnapping and subsequent torture in prison was because the military wanted information on some people she knew.
"Arriving at the prison they stripped me completely before I entered the prison, 'to inspect me', they said.
"My first night was a very difficult night, I did not know what would happen tomorrow."
She was also horrified to see other female victims in her jail cell. There were seven Syrian women in the six-square-meter cell, including a 65-year-old woman and a 14-year-old girl who had been raped in prison and showed signs of pregnancy.
-FIRST DAY OF INTERROGATION
"In the morning, when the guard told me to come with him on my first day, the blood froze in my veins, he blindfolded and handcuffed me and took me to the interrogation room."
In the room, a barrage of questions laced with threats followed, asking her to give up information that she knew would deeply affect a large number of her friends and family. But she refused to snitch.
"My answers made the officer angry, he would beat every part of my body while the other soldiers were sitting in the room laughing," she said.
When she still refused to budge, her torturers began to electrocute her.
Hijazi said every time the officer did not get an answer from her, he would beat her while she was blindfolded and then use electric shocks.
Following the interrogation, she would be left outside the prison corridor with her hands tied for several hours, while everyone passing by would slap or hurl insults.
"In many days of interrogation, I was threatened with rape; one time the interrogator said to one of the officers: Take her to a room with five officers, so that they rape her.
"They made me walk through a long corridor. I closed my eyes hoping they would go away.
"I opened my eyes to find myself in front of my own cell without any soldiers, they would try to beat me psychologically," she said.
Hijazi said her torture continued for seven long days, from morning until evening. Eventually, she gave up some names as she could no longer bear the pain.
"After seven days of torture, I fell tired and gave them some names as I knew this torture would continue if I would not give them anything," she said.
After 13 days, Hijazi was taken to a cockroach-infested solitary cell, about two square meters long with a very small hole for air.
-PSYCHOLOGICAL TERROR
Even when she was not the one being tortured physically, she was made to suffer psychological terror.
She was made to hear the wails and screams of other victims being tortured mercilessly.
"The soldiers were placing the young detainees in front of the cell and beat them and torture them until they were unconscious, then they would pour water on them and electrocute them to [make other prisoners] hear their voices," she said.
Hijazi was released after one month of physical and psychological torture on Oct. 26, 2012.
While she considers herself to be lucky to be out, she constantly recalls the "thousands" of women who continue to suffer in such prisons each day.
"I'm out of prison but so far there are women who are subjected to daily torture in prison, thousands of them and no one hears their voice," she said.
She hopes the Conscience Convoy in Turkey will help give a voice to these "voiceless women".
"I joined the Conscience Convoy to send my message to the international community: I am asking you to take effective action to free Syrian women and to protect all women in conflict zones," she said.
"If we can stop this suffering with the Conscience Convoy today, we can stop it everywhere."
Currently, over 6,700 women -- over 400 of them young girls -- are still held at prisons run by the Syrian regime forces, according to a statement by the Conscience Convoy.
Syria has been locked in a devastating civil war since March 2011, when the Bashar al-Assad regime cracked down on pro-democracy protests with unexpected ferocity.
While UN officials say hundreds of thousands of people have been killed in the conflict, Syrian regime officials say the death toll is closer to 10,000.