Turkish Red Crescent calls for access to Eastern Ghouta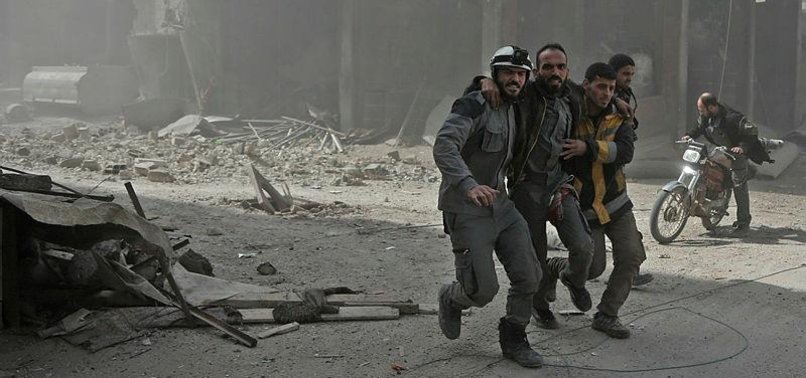 Turkish Red Crescent is ready to evacuate more than 1,000 injured people in Eastern Ghouta but its hands are tied, the organisation's head said Wednesday.
Speaking at southern Hatay province, near the Syrian border, Kerem Kınık said they had equipped their hospitals to provide aid to the injured but their staff was not allowed to reach them.
The UN has declared a 30-day ceasefire in Syria to allow for aid delivery and civilian and medical evacuation.
"We declared we wanted to deliver aid to Afrin during this 30-day period, in collaboration with Syrian Red Crescent, the Red Cross committee, the UN and Turkish Armed forces," he said.
However, while the Turkish forces provided their staff security, the same support was not reciprocated by the Syrian regime, he added.
Thousands of civilians continue to lose their lives in Eastern Ghouta, a Damascus suburb, which is experiencing a human tragedy.
Eastern Ghouta has been under siege for the last five years, and humanitarian access to the area, which is home to some 400,000 people, has been completely cut off.
In the past eight months, Bashar al-Assad regime forces have intensified their siege on the region, making it nearly impossible for food or medicine to get into the district and leaving thousands of patients in need of treatment.
Hundreds have been killed by regime airstrikes in recent days.
Syria has been locked in a devastating civil war since March 2011, when the Bashar al-Assad regime cracked down on pro-democracy protests with unexpected ferocity.
Although Syrian regime officials claim that the death toll in Syria is close to 10,000, UN officials say hundreds of thousands of people have been killed in the conflict so far.
The Turkish Red Crescent, the Turkish Disaster and Emergency Management Authority (AFAD), the Turkish Armed Forces (TAF) and a number of other aid organisations have also been involved in providing humanitarian aid during Operation Olive Branch.
Turkey on Jan. 20 launched Operation Olive Branch to remove PYD/PKK and Daesh terrorists from Afrin, northwestern Syria.