Turkey sends aid to Syrian villages cleared of terror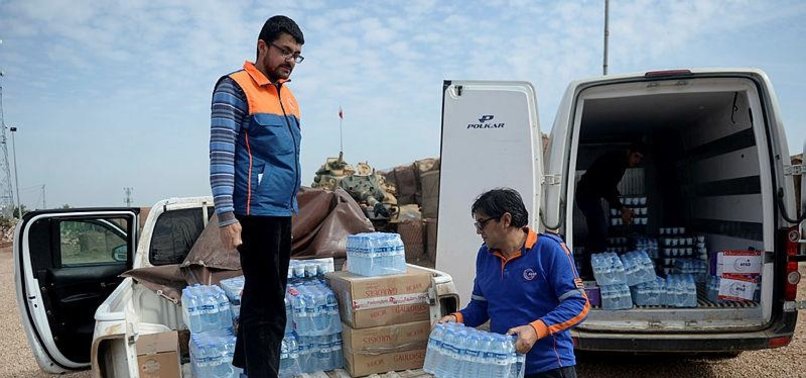 Turkish military and the country's Disaster and Emergency Management Authority (AFAD) were collaborating with each other to send humanitarian aid, including food, water and beverages to Syrian villages cleared of terrorists, an official from the authority said on Monday.
The aid packages filled with water, ayran -- a salty yogurt drink popular in Turkey -- and dry food were being transported by Turkish army's pickup trucks.
Adil Siraz, AFAD Provincial Director in southern Turkey's Kilis province near Syria, told Anadolu Agency 750 families in Bent Direk, Celengi and Akbez villages in Afrin's rural area had been provided with water, ayran, food and dessert.
Siraz said AFAD was supplying aid to areas cleared of terrorists since Operation Olive Branch started in Afrin region.
On Jan. 20, Turkey launched Operation Olive Branch to clear YPG/PKK and Daesh terrorists from Afrin, northwestern Syria.
At least 2,777 YPG/PKK and Daesh terrorists have been "neutralized" since the beginning of Operation Olive Branch in Syria, according to the military on Monday.
According to the Turkish General Staff, the operation aims to establish security and stability along Turkey's borders and the region as well as to protect Syrians from terrorist oppression and cruelty.
"AFAD personnel from Turkey's different regions are in the field and cooperating with other Turkish institutions on several points such as civil defense, search and rescue, shelters and food service," Siraz said.
"We distributed humanitarian aid materials, especially hygiene and victual packages, beds and blankets to civilians in the foothills of Mount Darmiq that was cleared of terror last Sunday," he added.
The mountain is located opposite to Turkey's southern Kilis province.
"In addition with the cooperation of Turkish Red Crescent, children and elderly people were handed halva, cake and chocolates."