Jeff Sessions fires back at Donald Trump after criticism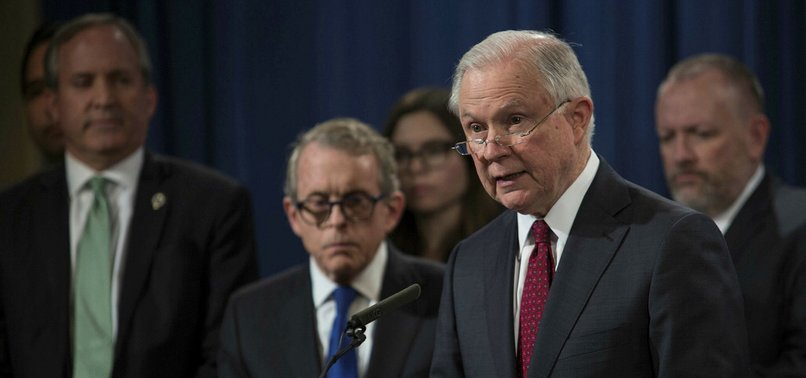 Attorney General Jeff Sessions isn't staying quiet this time, pushing back after President Donald Trump used the word "disgraceful" to describe how Sessions is handling Republican complaints about the FBI.
President Donald Trump's attorney general hit back Wednesday after Trump ripped his handling of an ongoing investigation into possible surveillance abuse as "disgraceful".
Jeff Sessions defended his record in a statement provided to Anadolu Agency by the Justice Department, saying he "will continue to discharge my duties with integrity and honor".
"We have initiated the appropriate process that will ensure complaints against this Department will be fully and fairly acted upon if necessary," Sessions said in a rare public rebuke. "This Department will continue to do its work in a fair and impartial manner according to the law and Constitution."
The comments follow a Trump Twitter tirade in which he questioned Sessions' decision to task the Justice Department's inspector general with investigating possible abuses of surveillance courts.
"Will take forever, has no prosecutorial power and already late with reports on Comey etc. Isn't the I.G. an Obama guy? Why not use Justice Department lawyers? DISGRACEFUL!" Trump said.
Tensions have simmered between Trump and Sessions since the attorney general chose to recuse himself from the department's investigation into Russia's alleged effort to sway the 2016 election in Trump's favor, and the Trump campaign's possible collusion with that effort.
The matter has been a point of derision for Trump who has publicly and repeatedly aired his criticism over Sessions' decision, oftentimes on Twitter.
Sessions said Tuesday that Inspector General Michael Horowitz would investigate how the Justice Department and FBI obtained surveillance warrants to spy on a former Trump campaign policy adviser.
Republicans on the House intelligence committee released a memo last month alleging that the FBI and Justice Department improperly obtained a memo to surveil Carter Page using information paid for, in part, by the Democratic Party.
Horowitz was sworn in to his current post under former President Barack Obama, but he was previously nominated and confirmed to lead a sentencing commission under Republican President George W. Bush in 2003.
The office Horowitz helms is tasked with being the Justice Department's independent in-house watchdog.
The latest Trump-Sessions feud comes amid a ramping up in developments in the investigation being led by Special Counsel Robert Mueller into Russia's alleged "influence campaign".
A district judge in Washington set Sept. 17 for a trial to begin for former Trump campaign manager Paul Manafort on charges brought by Mueller's office, including money laundering and acting as a foreign agent without making the proper disclosures.
The trial is set to begin at the height of a make-or-break midterm election for Republicans who are hoping to maintain their narrow one-seat hold of the Senate, as well as their majority in the House of Representatives.
Manafort's co-defendant and long-time acquaintance Rick Gates pleaded guilty to lesser charges last week, and is cooperating with Mueller's probe into Russian electoral interference.
Manafort remains under house arrest ahead of his trial.