Holding business with terrorists very 'humiliating' for US: PM Yıldırım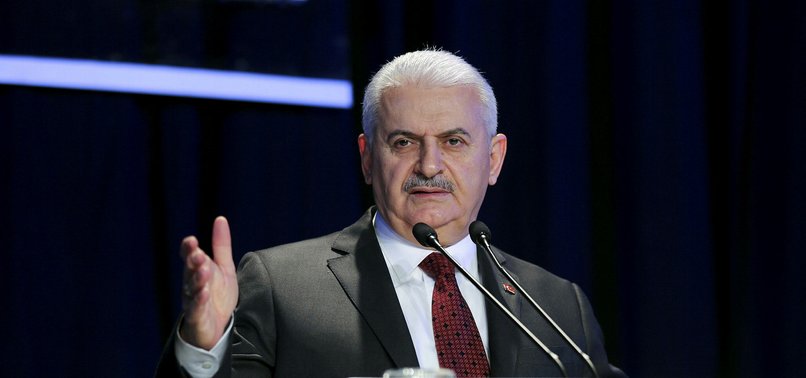 Turkey's Prime Minister Binali Yıldırım said at a signing ceremony in Ankara on Thursday that "It is really very humiliating for America to hold business with terror organizations."
Turkish prime minister said on Thursday the U.S. cooperation with terrorist organizations is "self-humiliating" for Washington.
"It is really very humiliating for America to hold business with terror organizations, [and] take actions it planned with a terror organization in the region," Binali Yıldırım said at a signing ceremony to introduce countrywide all-in-one payment system in Ankara.
Referring to the U.S., Yıldırım said the country, which Turkey has worked together with for many years in the region and called it "ally" in NATO, is clinging to terror groups.
"It is a sad and a dire situation," he said.
The premier said it is "unacceptable" that such country, instead of protecting the borders of NATO, is supporting the terror establishments.
"We will not tolerate any terror establishment along our 1,350-kilometer-long (839 miles) southern border from Iran to the Mediterranean sea, Iraq, Syria, Euphrates river's east or west," Yıldırım stressed.
Speaking about the PYD/PKK terrorist attack at a mosque in Turkey's Kilis province, he said a necessary response was given and all emplacements of the terrorists were destroyed following the attack.
He said the terrorists should face Turkish soldiers instead of attacking worshippers in the mosque.
The premier said wherever the terrorists find an unguarded persons or civilians they intend to kill them.
Two civilians were killed and six others were injured when a rocket fired by PYD/PKK terrorists from Syria struck a mosque in the Turkish border province of Kilis on Wednesday.
Yıldırım said Operation Olive Branch in Syria's northwestern Afrin region is continuing as planned and added that more than 300 terrorists have been killed so far as part of the operation.
- EUROPE'S SECURITY
He said that the operation is also preventing the passage of Daesh terrorists to Europe through Mediterranean sea.
"Therefore, we actually do not only provide the regional security but also [taking care of] Europe's security," Yıldırım said.
On Saturday, Turkey launched Operation Olive Branch to remove PYD/PKK and Daesh terrorists from Afrin.
According to the Turkish General Staff, the operation aims to establish security and stability along Turkish borders and the region as well as to protect the Syrian people from the oppression and cruelty of terrorists.
The operation is being carried out under the framework of Turkey's rights based on international law, UN Security Council's decisions, self-defense rights under the UN charter and respect for Syria's territorial integrity, it said.
Afrin has been a major hideout for the PYD/PKK since July 2012 when the Assad regime in Syria left the city to the terror group without putting up a fight.
The U.S. supports the PYD/PKK, considered by Ankara as the Syrian offshoot of the PKK terror organization that has waged a more than a 30-year war against the Turkish state. The terror campaign has resulted in tens of thousands of deaths.
American support for the terror group has long vexed Ankara as Washington views the PYD/PKK-led umbrella group, SDF, as a "reliable partner" in its fight against Daesh and continues to provide it with arms and equipment in the face of strong objections from Turkey.