US, EU in serious discord over embassy move to Jerusalem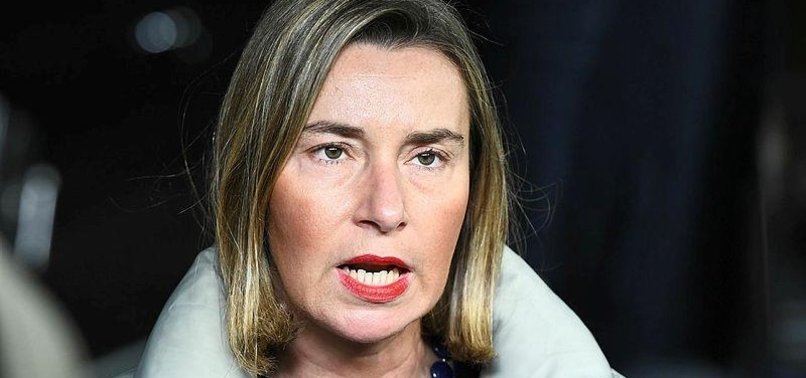 In a fresh display of Western discord over Middle East peace efforts, the United States said on Monday its Israel embassy would move to Jerusalem by the end of 2019, while its European Union allies voiced support for East Jerusalem as capital of a Palestinian state.
Vice-President Mike Pence, visiting Jerusalem, announced the timing of the move in a speech to Israel's parliament, earning applause from Israeli legislators but also stirring a brief protest by Israeli Arab lawmakers, who held signs reading "Jerusalem is the capital of Palestine".
In Brussels, the EU's foreign policy chief Federica Mogherini assured Palestinian President Mahmoud Abbas at a meeting that the EU supported his ambition to have East Jerusalem as capital of a Palestinian state.
U.S. President Donald Trump suddenly reversed decades of U.S. policy in December when he recognized Jerusalem as Israel's capital, generating fury from Palestinians and the Arab world and concern among Washington's western allies.
Trump's move delighted Israel, Washington's closest Middle East ally, but stirred disquiet from world powers including Russia and China who worry it would stoke regional tensions and further drive a wedge between Israel and the Palestinians.
Many countries believe Jerusalem should ultimately be shared between Israel and a future Palestinian state and so are unwilling to make decisions about recognition of its status before a comprehensive peace settlement is agreed. "In the weeks ahead, our administration will advance its plan to open the United States Embassy in Jerusalem – and that United States Embassy will open before the end of next year," Pence, part-way through a Middle East tour, said.
"Jerusalem is Israel's capital – and, as such, President Trump has directed the State Department to immediately begin preparations to move the United States Embassy from Tel Aviv to Jerusalem."
Reaction to Pence locally split along Israeli-Palestinian faultlines.
Palestinian chief negotiator Saeb Erekat said on Twitter that Pence's speech showed the U.S. administration was part of the problem rather than the solution.
"The messianic discourse of Pence is a gift to extremists", he wrote. "His message to the rest of the world is clear: violate international law and resolutions and the U.S. will reward you."
In Gaza, Essam Abu Ibrahim, 28, a store owner, said: "It will not change the fact that Jerusalem is an occupied city and it will continue to be an occupied city after this decision."
In Brussels, Abbas repeated his call for East Jerusalem as capital as he urged the EU member nations to recognise a state of Palestine immediately, arguing that this would not disrupt negotiations with Israel on a peace settlement for the region.