Turkish PM says no troops lost so far in Afrin operation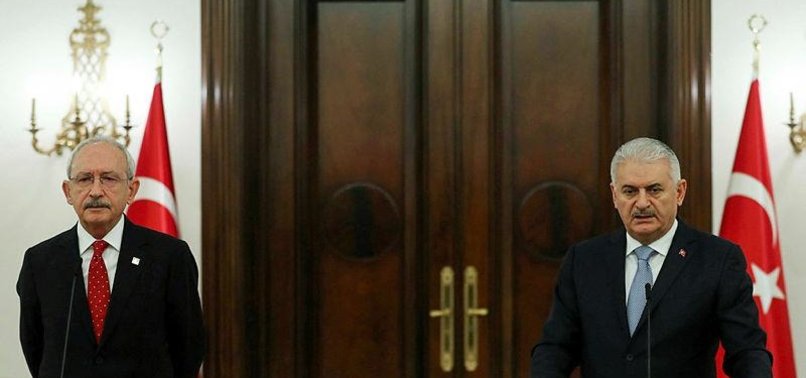 The Turkish military suffered no losses so far in the Afrin operation, said Prime Minister Binali Yıldırım on Monday.
Yıldırım's remarks came after he met Turkish main opposition Republican People's Party (CHP) leader Kemal Kılıçdaroğlu at Çankaya Mansion in Ankara.
"PYD/PKK terrorists in Syria's northwestern town of Afrin targeted the southern Hatay province with a mortar shell, killing one person and injuring two," Yıldırım said.
"As Mr. Kılıçdaroğlu has stated, we have sensitivities. What are our sensitivities? Turkey will not and will never bring prejudice to the territorial integrity of Syria."
He added that one Turkish soldier had been slightly injured in the Afrin operation.
On Saturday, Turkey launched Operation Olive Branch to remove all PYD/PKK and Daesh terrorists from Afrin.
According to a statement by the Turkish General Staff, the operation aims to establish security and stability along Turkish borders and the region as well as to protect the Syrian people from the oppression and cruelty of terrorists.
"The operation's name is very meaningful. Afrin is famous for its olives. This is a peacekeeping operation. More than 170 targets have been destroyed with more than 100 aircrafts in the first two days," Yıldırım said.

- CHP LEADER 'SUPPORTS' OPERATION
"The operation is fully supported by our nation. The 80 million one-hearted pray for our soldiers' success. Also our political party, the main opposition party leader Kılıçdaroğlu and Nationalist Movement Party (MHP) leader Devlet Bahceli fully support this campaign," he added.
Yıldırım thanked Kılıçdaroğlu and the other political party leaders for their support.
Main opposition CHP leader Kemal Kılıçdaroğlu voiced his "support" for the operation, wishing luck to Turkish soldiers in the region.
"Operation Olive Branch has inevitably arrived on Turkey's agenda. Our heroic soldiers are continuing their fight. Our main desire is for all to return home safely," he said.
"Syria's territorial integrity is very important. Therefore, our troops are clearing our borders of terrorists. They also make a contribution to the territorial integrity of Syria," Kılıçdaroğlu added.
Turkey launched a military campaign in Afrin region, northwestern Syria, to eliminate the PKK, PYD, YPG and Daesh terrorist organizations.
The operation is carried out under the framework of Turkey's rights based on international law, UN Security Council's decisions and self-defense right under the UN charter, the Turkish military said.
It said the operation will also take sensitivity into account and that no civilian/innocent person would be harmed.
The PYD/PKK is the Syrian offshoot of the PKK terrorist group, which has been designated a terrorist organization by Turkey, the U.S. and the EU.
Since the mid-1980s, the PKK has waged a wide-ranging terror campaign against the Turkish state in which an estimated 40,000 people have been killed.
More than 1,200 security personnel have been martyred since July 2015 when the group resumed its armed campaign against the Turkish state.