Trump's first year a failure but base cheer performance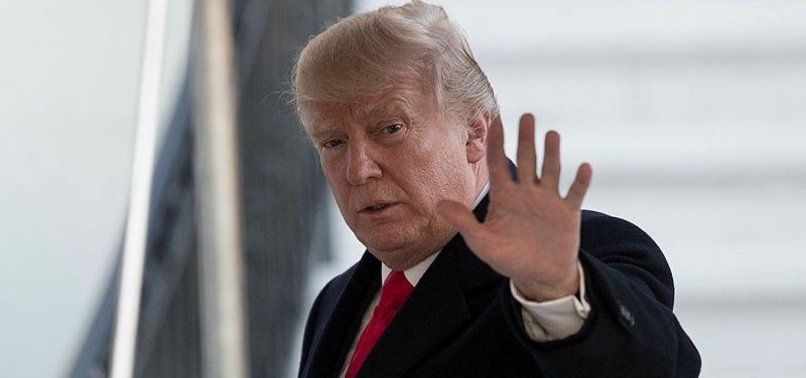 After one year in office, President Donald Trump is polling with historically low numbers with most Americans assessing his presidency as a failure.
The new numbers released Thursday in two polls show just 37 percent of respondents approve of the job the president has done while in one survey, nearly 60 percent disapprove.
Anadolu Agency traveled from Dallas, Texas, to Atlanta, Georgia, to get the temperature of support for Trump one year after he took office.
Deep in the "Bible Belt"-where conservative Christian values tend to hold sway over social and political life, supporters of the president are generally positive about his performance and most have adopted at least one of his stances.
Throughout his campaign for the White House and beyond, Trump used attacks to dismiss "fake news" media outlets and reports he did not like.
Almost everyone was eager to talk to Anadolu Agency but when asked to speak on the record, reluctance set in -- joined by a general distrust of the media and what they said was the industry's inability to be honest.
A gun store owner outside Jackson, Mississippi, was happy to talk but he did not want to be recorded.
That reluctance was not limited to the president's supporters but extended to those who feared retribution if they voiced any opposition to Trump.
A black woman at a Christian bookstore in Alexander City, Alabama, was concerned about the president's rhetoric regarding immigrants, minorities and thought his use of Twitter was "gross" but because of "where she lived", was nervous about being on camera.
Just around the corner, a Methodist minister on the street declined to go on camera because he feared backlash from his congregation. He conceded a parting of the ways with Trump on policies and that he was constantly taken aback by how the president conducted himself with erratic tweets, threatening statements and passing off questionable facts as the truth.
- BELLICOSE APPROACH
Trump is wont to respond in kind to any perceived criticism and has gotten himself entangled in high-profile spats with no less than world leaders, including the likes of North Korean leader Kim Jong Un. It has been the saber rattling that has increased tensions and concerns about armed nuclear confrontation.
Trump's bellicose approach has enamored him to supporters who buy into the rhetoric from the president that the U.S. has lost respect and needs to get tough to regain its prestige amongst the nations of the world.
"He sometimes runs his mouth off a lot but I sorta like him cause he don't take no crap off of anybody," George Hopsson said in a heavy southern drawl while sitting at a barber shop in the tiny town of Wetumpka, Alabama.
"So far, I like what he's doing. I like that he didn't have to run. He's rich and he didn't have to do it. I've been pleased with him so far."
Hopsson's views are reflected in the vast majority of Trump voters in these parts who believe after one year in office, Trump has mainly stuck to the promises he made while vying for the Oval Office.
They acknowledge difficulties in getting his agenda through Congress, even with control of both chambers of the legislature, because as Hopsson puts it, "he does have the opposition, even the Republicans, but they're tending on working with him some."
At a sparsely attended neo-Confederate protest in Memphis, Tennessee, quite a few Trump supporters were willing to be photographed but not interviewed on camera.
In general, they were happy with the president's moves to undo a lot of initiatives by former President Barack Obama but said they had hoped it would have happened at a much faster pace. They also were upset with the inability of the Republican-led Congress to get anything meaningful done other than an overhaul of the country's tax system.
Among the promises Trump has made were a repeal of his predecessor's health care law known as Obamacare, tax overhaul, job creation and, perhaps the most audacious: the construction of a wall along the U.S.-Mexico border to stem the tide of illegal immigration from Latin American countries.
"I believe he's got a higher rate of that, yes," was Dennis Schulze's response to a question about Trump's ability to keep his promises. The resident from the state of Wisconsin agrees with Trump who said he wants more done to help military veterans but Schulze wishes "they would form something just for our vets and homeless housing for them."
- REPEALING OBAMACARE
One recurring theme in the conversations with these die-hard Trump supporters was the issue of health care.
After suffering a humiliating defeat trying to repeal Obamacare, Trump and his Republican Party abandoned the effort, instead moving to tax reform that has proved more unpopular that some tax cuts.
The promise to do away with the current health care system was the top priority of the new administration but that was a lot more difficult to accomplish than lawmakers had hoped.
Trump has turned to a series of executive actions to try to dismantle the law. But records show those energies are misplaced.
An estimated 3.2 million more Americans ended 2017 uninsured, compared to a year earlier. The 1.3 percent increase is the largest jump in about a decade and the only annual increase in the number since the main features of Obamacare were enacted in 2014, according to a report released earlier this week.
The effects are not lost on those who want a better health care system.
"Insurance. Better insurance for everybody. I don't know much about Obamacare but I'd like to see better insurance for families," said Schulze, who is a former trucker who lost his right leg in an accident.
He now wheels himself backwards 5 miles each day to meet with lawmakers in an effort to raise awareness for military veterans and first responders. He spoke while in his hotel room in Jackson, Mississippi, where he was preparing to meet the city's mayor.
As with Schulze, Hopsson wants better health care.
He hopes Trump "gets the wall up, hopefully the market keeps being good, and improve health care for everybody. That's the main thing."
Outside of his base of supporters, Trump is finding it hard to win over voters who disagree with him.
But even in the deep south, Republican strongholds that swung heavily for Trump in the presidential election, the tide may be changing away from the president.
The Republicans lost what was believed a sure win in a U.S. Senate rate in Alabama. Trump endorsed the candidate who was accused of sexual misconduct and the defeat last month was not only humiliating but an indication of a voter rejection.
If that shift continues to show up in special elections in the lead up to the midterm elections later this year, given the president's penchant for manufacturing distraction and creating chaos, Trump's remaining time in office could prove more defining that his first 365 days.