Turkey-EU relations likely to gain momentum in 2018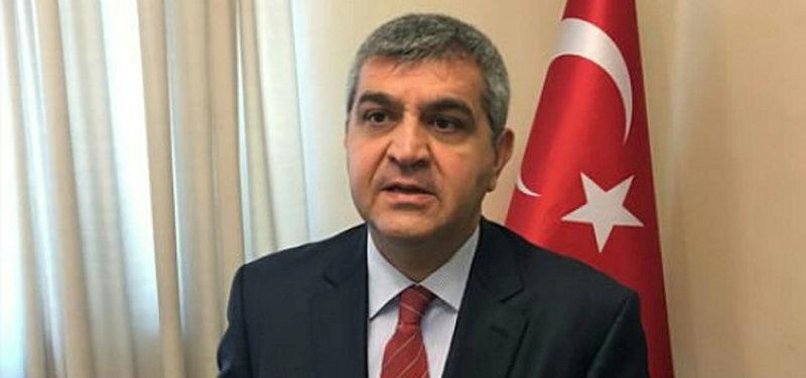 The relations between Turkey and the European Union are expected to gain momentum with anticipated meetings of senior officials after a tough year of 2017.
"A summit between the EU and Turkey in June ahead of the EU summit is under consideration. There are expectations in this direction," Faruk Kaymakçı, Turkey's permanent representative to the EU, told Anadolu Agency.
The EU leaders are expected to gather on Jun. 28-29 and the bloc's enlargement policy is expected to be one of the main agenda items of the event.
A large number of Turkish ministers will be attending EU-level gatherings in Brussels in the coming weeks. Similarly, senior officials and ministers from candidate countries will be coming together in Bulgaria, as the country took over the rotating presidency of the E.U. this year for six months, Kaymakçı said.
A high-level EU official, who spoke on the condition of anonymity due to restrictions on talking to the media, told Anadolu Agency: "The EU is ready to continue our dialogue with Turkey and is reflecting internally on a possible leaders' meeting but at the stage no details are available."
Earlier this month, Bulgaria's foreign minister voiced hope that Turkey's relations with the European Union would improve during her country's turn at the bloc's presidency.
"Neither the successful protection of the EU's external borders nor the fight against terrorism can be succeeded without a close partnership with Turkey," Ekaterina Zakharieva told Bulgarian National Television (BNT).
Bulgarian Prime Minister Boyko Borisov spoke of Turkey's EU membership process during a visit to Istanbul.
- NORMALIZATION OF RELATIONS
Borisov said there is a need to normalize relations between Turkey and the EU in 2018. "We will contribute [to Turkey's membership] as much as we can."
Turkey applied for membership in the European Economic Community, a precursor to the EU, in 1987.
It became eligible for EU membership in 1997 and accession talks began in 2005. To gain membership, Turkey has to successfully conclude negotiations with the EU in 35 policy chapters that involve reforms and the adoption of European standards.
Ties between Ankara and European capitals have been strained since the defeated coup attempt in Turkey.
Turkish leaders slammed European countries for failing to show strong solidarity with Ankara against the defeated military coup.
Turkish politicians have also criticized Germany, Belgium, the Netherlands and several other European countries for turning a blind eye to outlawed groups and terrorist organizations hostile to Turkey.
The July 15, 2016 defeated military coup, which left 250 people martyred and nearly 2,200 injured, was orchestrated by the Fetullah Terrorist Organization (FETO) and its U.S.-based leader Fetullah Gulen.
Turkey accuses FETO of being behind a long-running campaign to overthrow the state through the infiltration of Turkish institutions, particularly the military, police and judiciary.