Syrian opposition leader opposes border force plan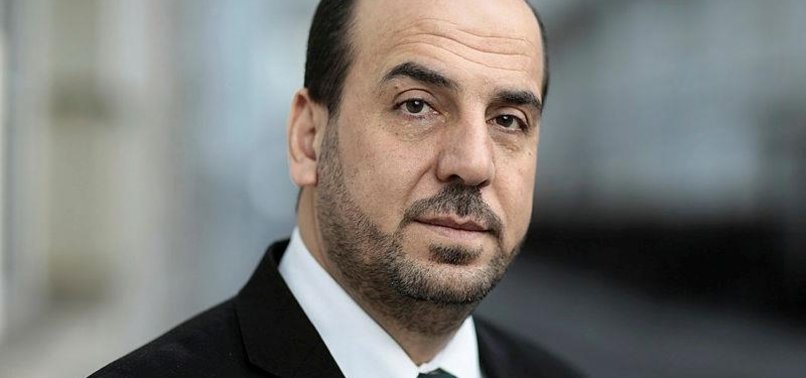 The chief negotiator of the Syrian Negotiations Commission (SNC) has expressed strong reservations about a U.S. plan to establish a border guard in northwest Syria.
Nasr al-Hariri, who is in the British capital, said the aim of the SNC, Syria's umbrella opposition group, was to build a single, unified national army at the point of political transition.
"A large, separate Kurdish force might open the door for a new political struggle in the region," Hariri was quoted Tuesday as saying by local media, including The Guardian.
"Any force based on ethnicity or religion will be harmful to a political solution," he said.
On Sunday, U.S.-led coalition spokesman Ryan Dillon announced plans to establish a 30,000-strong border security force in Syria with the SDF -- a U.S.-backed group drawn up largely of PYD/PKK terrorist elements.
The PYD/PKK is the Syrian offshoot of the PKK terrorist group, which has been designated a terrorist organization by Turkey, the U.S. and the EU.
Since the mid-1980s, the PKK has waged a wide-ranging terror campaign against the Turkish state in which an estimated 40,000 people have been killed.
Turkey has strongly opposed the plans. Turkish President Recep Tayyip Erdogan said Monday that Turkey is ready "at any moment" to start an operation in the besieged border area of Syria.
Hariri met with British Minister of State for the Middle East Alistair Burt during his visit to London.
"I am alarmed that in spite of commitments to de-escalation, the regime and its backers continue to bomb and shell opposition areas in eastern Ghouta and Idlib," Burt was quoted as saying in a statement after the meeting.
Burt said the regime offensives have killed hundreds of civilians in recent weeks, displaced tens of thousands and destroyed hospitals and other civilian infrastructure.
"These attacks must stop," he urged the regime forces.
Underlining the U.K.'s commitment to its humanitarian response to the Syria crisis with £2.5 billion ($3.44 billion), Burt said "only a political settlement can bring a durable end to the human suffering and the regional instability the conflict fuels".
Burt said the U.K. "supports the efforts of the UN-mediated Geneva process, as we believe this is the best way of reaching a lasting political settlement to end the conflict".
"We commend the constructive engagement by [Nasr al-Hariri] and the Syrian opposition in the latest round of Geneva talks and call on the Syrian regime to likewise engage constructively and agree to direct talks," he added.