PYD/PKK stockpiles ammunition in northern Syria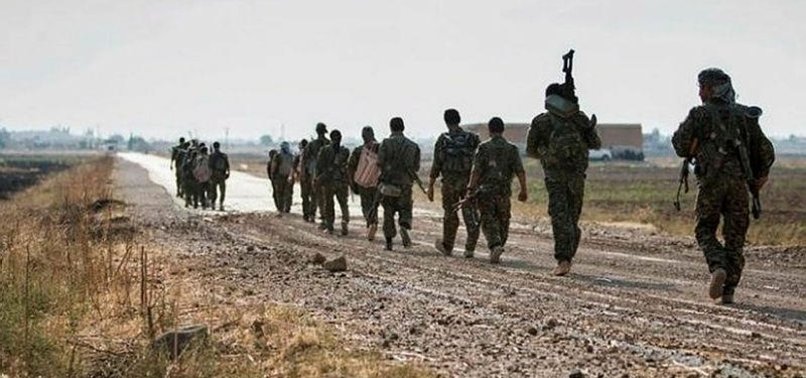 Terrorist organization PYD/PKK has begun piling ammunition in northern Syria's Manbij city to fight the Turkish Armed Forces, according to local sources.
Turkey is mulling over a possible operation in Afrin, a besieged city in northern Syria, to prevent a "terror corridor" from forming along its border. On Tuesday, President Recep Tayyip Erdogan said Turkey will "destroy" all terror nests in Syria, one by one, starting with Afrin and Manbij regions.
The Afrin operation will follow Turkey's successful seven-month Operation Euphrates Shield, which ended last March.
The PYD/PKK has stored a large amount of ammunition in and around Manbij -- located on the western side of Euphrates, said the sources who refused to be named due to security reasons.
A convoy of 400 military vehicles including armored vehicles supplied by the U.S. have arrived in the city center and have been deployed in two different parts of the city, locals added.
The first shipment of ammunition was stored in and around the village of Arimah.
The second stockpile is located in the Silo village in southern Manbij. The village borders a regime-controlled area with no physical contact to Afrin. The only way to supply ammunition from Manbij to Afrin is to take help from the regime forces.
Manbij was captured by the PYD/PKK with support from the U.S., which considers it an ally against Daesh in the region. The U.S. had promised Turkey that the group would retreat from the region, but it failed do so.
The Assad regime handed over Afrin to the PYD/PKK without any fight and the area currently hosts 8,000 to 10,000 terrorists
Terrorists are now hiding in shelters and pits in residential areas in Afrin -- a region bordering Turkey's Hatay and Kilis provinces -- after Turkey pointed out the region was a nest for terrorists.
The mountainous geography of Afrin poses an advantage for the terrorists. They use the Amanos Mountains to sneak into Turkey and plot terrorist activities.
The PYD/PKK has occupied 65 percent of the Turkey-Syria border.
On Sunday, the U.S.-led international coalition against Daesh announced it would establish a 30,000-strong new border security force with the SDF -- the U.S.-backed group, largely controlled and manned by the PYD/PKK terrorist organization in Syria.
Turkey has long protested the U.S. support for the PYD/PKK terror group, while Washington has brushed off these criticisms, saying it needs the terror group's help to fight against Daesh in Syria.
The PYD/PKK is the Syrian offshoot of the PKK, which is listed as a terrorist organization by Turkey, the U.S. and EU. The PKK has waged a terror campaign against Turkey for more than 30 years, leading to the deaths of more than 40,000 security forces and civilians.