Erdoğan calls on NATO to take stance against US over border force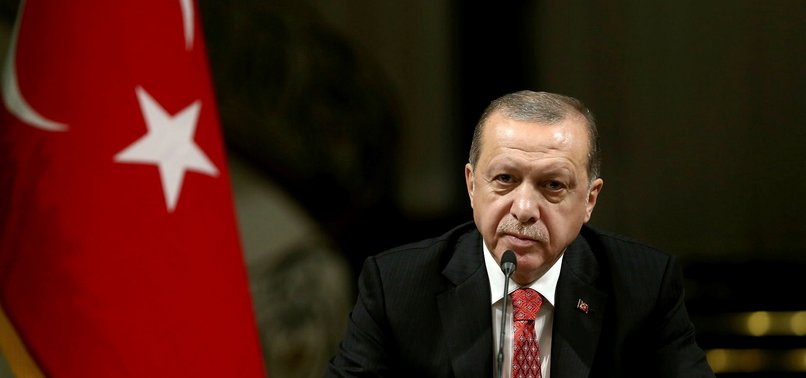 Turkish President Erdoğan questioned NATO's stance on the Washington's PKK/PYD-led border forces plan, saying in his Tuesday speech to his ruling party's deputies that "Hey NATO! You are obliged to make a stance against those who harass and violate the borders of your members."
Turkish President Recep Tayyip Erdoğan on Tuesday called on NATO to take a stance against the United States, a fellow ally, over its plans to form a 30,000-strong Kurdish-led border security force in Syria.
Turkey has been threatening to launch a new military offensive in Syria against PKK/PYD terrorists, which Turkey considers to be terrorists because of their affiliation with outlawed PKK has waged terror campaign in Turkey for over 30 years.
On Monday Erdoğan accused the United States of creating an "army of terror" in Syria, along the border with Turkey, and vowed to crush the U.S.-backed border force.
Addressing his ruling party's deputies on Tuesday, Erdoğan questioned NATO's stance on the issue, saying: "Hey NATO! You are obliged to make a stance against those who harass and violate the borders of your members."
NATO's headquarters described Turkey as "a highly valued ally" and said the alliance was committed to Turkey's defense. It said however that the alliance did not have a presence on the ground in Syria and that the matter was an issue for the U.S.-led anti-Daesh coalition, which includes dozens of countries.
Ties between Turkey and the United States have deteriorated over U.S. support of the PKK/PYD terrorist which Turkey says is a major threat to its security. The United States however has relied on the PKK/PYD — the backbone of a Syrian force that drove the Daesh group from much of northern and eastern Syria with the help of U.S.-led airstrikes.
The coalition has said the new force, expected to reach 30,000 in the next several years, is a key element of its strategy in Syria to prevent the resurgence of the Daesh terror group in Syria.
Erdoğan on Tuesday reiterated that Turkey planned an imminent intervention in the PKK/PYD-controlled enclave of Afrin in northern Syria. Turkey has sent reinforcements to its border in recent weeks and Erdoğan said this week that Turkish troops were already firing artillery at Afrin from the border.
Speaking to reporters after his speech to party legislators, Erdoğan said Turkey would conduct the operation in Afrin with Turkish-backed Syrian opposition forces, the state-run Anadolu Agency reported.
Asked whether he planned to discuss the PKK/PYD-led border force with U.S. President Donald Trump, Erdoğan said he had no plans to call the U.S. leader.
"We discussed the issue before. He said he would get back to me. I won't call him as long as he does not get back to me," Anadolu quoted Erdoğan as saying.