Croatia commends Turkey's support in hard times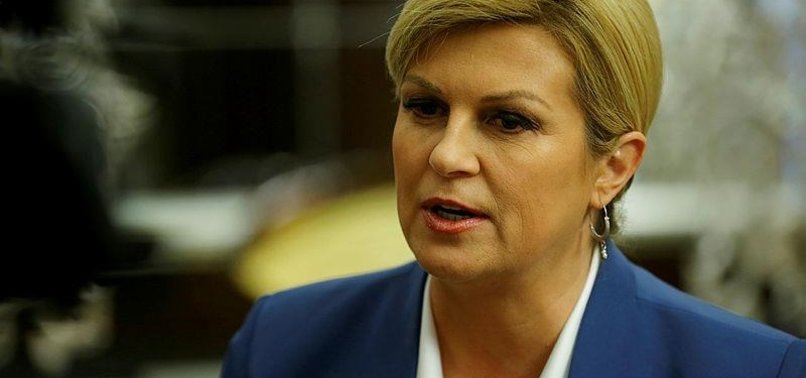 Croatia appreciates Turkey's support during the "most difficult times", President Kolinda Grabar-Kitarovic has told Anadolu Agency.
"Our bilateral relationship is very good. We do not have any open issues. In particular, not any serious open issues and we have always very much appreciated the support of Turkey to Croatia during the most difficult times," she said on her one-day working visit to the capital Ankara on Tuesday.
Kitarovic met her Turkish counterpart Recep Tayyip Erdoğan and discussed bilateral relations and international developments.
"As I said, our bilateral relation is pretty good but I do see a lot of potential for further development," the Croatian president said.
She said the trade volume between the two countries had increased up to around €350 million ($417 million) in the first nine months of 2017.
"What I most welcome is President Erdoğan's statement in Zagreb that our trade exchange should reach $1 billion. That is what we are aiming for," she added.
Kitarovic said one of the "important" steps to achieve this aim was the establishment of the Croatian Chamber of the Economy that will open in Istanbul in 2018.
She added Zagreb and Ankara had potentials in the areas of food industry, livestock, energy, construction and tourism.
She believes further meetings and bringing business delegations from Croatia to Turkey as well as exploring more opportunities by Turkish businesspeople in Croatia will enhance the investments.
- TURKEY'S EU BID
Kitarovic reiterated that Turkey was Croatia's friend during the most difficult times and would remain its friend.
"Turkey was Croatia's friend when friends were very few," she said.
Kitarovic added: "We believe that it is in EU's vital interest to keep Turkey on the EU track."
Turkey applied for EU membership in 1987 and accession talks began in 2005. However, negotiations stalled in 2007 due to the objections of the Greek Cypriot administration in the divided island of Cyprus, as well as opposition from Germany and France.
Kitarovic also commended what Turkey had been doing in regards to Syrian refugees.
She added Croatia was one of the countries that was affected by the refugee wave that streamed into Europe in 2015 and early 2016.
"We immensely appreciate what Turkey has been doing in caring for Syrian and other refugees," she said.
Turkey currently hosts over 3 million Syrian refugees, more than any other country in the world.
- BOSNIA AND HERZEGOVINA
Regarding Bosnia and Herzegovina, Kitarovic said Turkey and Croatia played a "very important" mediating role.
"I believe time has come again because we have seen a sort of stalemate in Bosnia and Herzegovina for too long," she added.
Kitarovic said Croatia wanted to see Bosnia-Herzegovina make progress on the way to EU membership.
"We want to see them become a candidate and open negotiations. We want to see the map fully activated for Bosnia and Herzegovina and this is where Croatia and Turkey can work together in the context of NATO," she added.
The president believes the EU lost attention on Bosnia-Herzegovina and on the situation there.
Pointing out the 2018 elections in Bosnia-Herzegovina, she said the situation was "uncertain" when it came to the electoral law.
"We hope that with Turkey we can work together in order to bring about an agreement between first and foremost Croats and Bosniaks within the federation and also among all the three nations in Bosnia and Herzegovina," she said.
- PELJESAC BRIDGE
About a long-running row between Bosnia and Croatia over the controversial Peljesac Bridge --which would bypass Bosnian territory-- the president said the aim was not to isolate Bosnia-Herzegovina.
"I think what is most important to underline is that this bridge has nothing to do with anything against Bosnia and Herzegovina," she said.
Kitarovic said Bosnia and Herzegovina will not be "bypassed". She added the bridge would provide traffic circulation.
Construction of the bridge restarted in 2017 -- with EU funding -- after the project was halted in 2012 amid political disputes and financial difficulties.
The EU has offered a €357 million ($430 million) grant for the project, nearly 85 percent of the total cost, rejecting arguments the bridge would be partly constructed on the Bosnian waters.