Air strikes kill at least 17 civilians in Syria rebel enclave: monitor
WORLD
Anadolu Agency & AFP
Published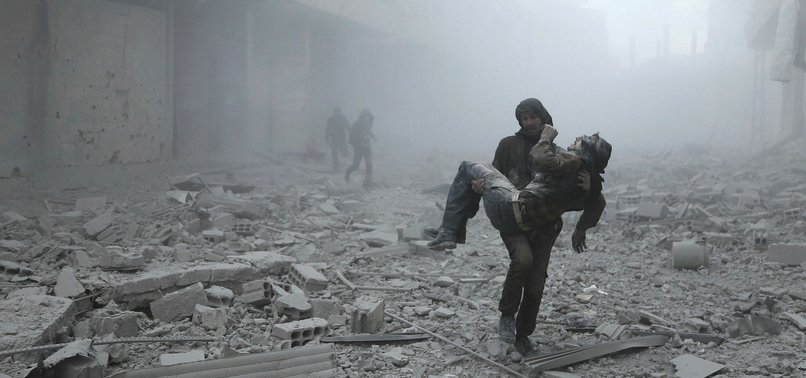 Air strikes on the rebel-held Syrian region of Eastern Ghouta, on the outskirts of the capital Damascus, killed 17 civilians and wounded 60 others on Saturday, a monitor said.
Regime and Russian air strikes on a rebel-held enclave near Damascus killed at least 17 civilians, wounded 60 others on Saturday, the Syrian Observatory for Human Rights said.

The deadliest of the raids on the Eastern Ghouta region hit the Hammuriyeh district, leaving 12 civilians dead including two children, while two others were killed in Medyere, and three civilians were also killed in Arbin, the British-based war monitor said.
Regime forces began intensified artillery and air attacks on an area that is part of the de-escalation zone, said the source, who asked not to be named due to security concerns.
Regime forces targeted the Hammuriye, Cisrin, Arbin, Misraba, Marj, Haresta and Medyere regions with heavy artillery and air attacks, the source added.
The wounded were taken to hospitals by civil defense teams, but more casualties from the attacks are feared.
Assad forces have been bombing Eastern Ghouta since Nov. 14
The area, which has been under siege by regime forces since December 2012, falls within a network of de-escalation zones -- set up in Syria by Turkey, Russia, and Iran -- in which acts of aggression are officially forbidden.
Syria has been locked in a vicious civil war since early 2011, when the Assad regime cracked down on pro-democracy protests with unexpected ferocity. Since then, hundreds of thousands of people have been killed and more than 10 million others displaced, according to UN officials.