Victims of financial fraud swell ranks of Iran protests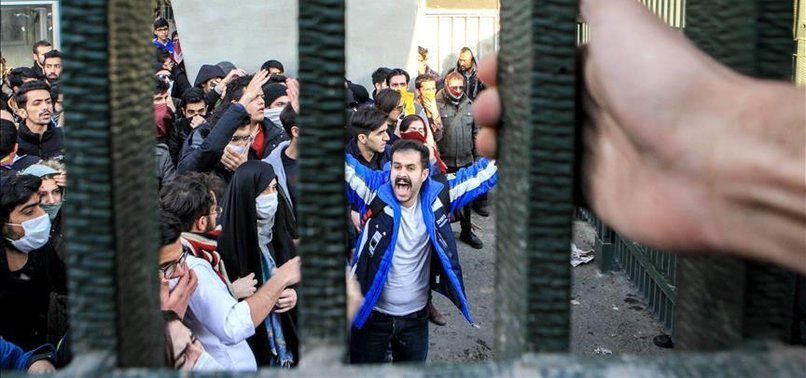 Mounting anger among Iranian depositors -- many of whom say they were conned by local financial institutions -- may have had an effect on Iran's recent wave of street protests.
For the past week, Iranians have staged demonstrations across the country to express dissatisfaction with the rising cost of living. Iran has also seen a number of large pro-government rallies.
Last May, roughly 200 people who had lost money to Iran's Caspian Credit Institution demonstrated outside the headquarters of Iran's Central Bank.
The demonstration was joined by a number of people claiming to have lost money to Iran's Arman, Fereshtegan, Samen and Padideh credit institutions as well.
Offices belonging to these institutions were reportedly torched by angry demonstrators.
Shortly afterward, 130 lawmakers submitted a motion of censure to Iran's Islamic Consultative Assembly (Majlis) against President Hassan Rouhani.
The government has yet to adopt any measures regarding those who reportedly lost money to the financial institutions.
Many Iranian credit institutions were originally set up to provide indebted poor people with interest-free loans.
The first such institution was established in 1969 by the name of "Javed".
Following the Iran-Iraq war in the 1980s, these organizations became finance and credit institutions, distributing a share of their profits to the public.
By 2016, the number of these institutions had risen to 7,333, more than 6,000 of which were allowed to operate without official permission, according to a recent parliamentary report.
After 2010, Iran's Central Bank voiced its discomfort over the lack of regulation governing such institutions.
According to Iran's 1973 monetary and banking law, financial institutions and credit agencies must obtain the Central Bank's permission before they begin to operate.
Mohammad Reza Pour-Ebrahimi, former chairman of parliament's economy committee, said around 30 percent of Iran's $230-billion money market remained in the hands of such institutions.
According to Pour-Ebrahimi, one of these institutions now caters to more than two million depositors, holding roughly $3.6 billion worth of deposits.
In the early 1960s, merchants who founded these institutions -- including several members of Iran's Islamic Coalition Party -- became stakeholders in what later became credit agencies.
According to Nimet Ahmedi, an Iranian legal expert, a number of such lenders have become involved in illegal money laundering.
"Why should the country pay for losses incurred by depositors' greediness, mismanagement by the authorities, and illegal trading in the money markets?" he asked.
In a recent address to Iran's Majlis, President Rouhani queried: "Who are these people? What exactly are these institutions?"