Palestinians hurt in W. Bank clashes with Israeli army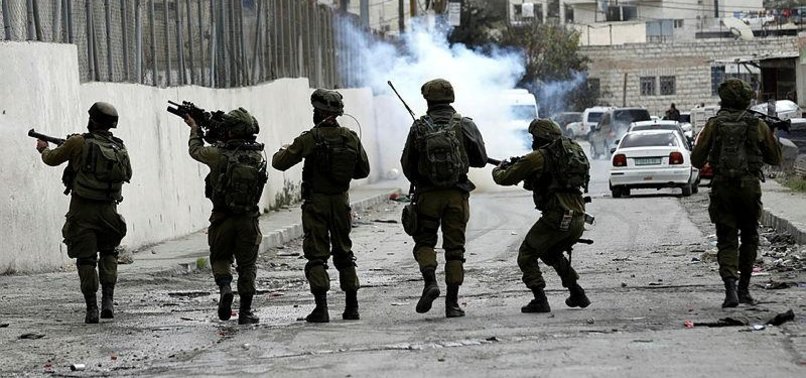 At least 10 Palestinians were injured on Thursday in clashes with Israeli army troops in the southern West Bank, according to witnesses and local medical sources.
In a statement, the Palestinian Health Ministry said the 10 Palestinians were receiving treatment for their injuries at Bethlehem's government-run Beit Jala Hospital.
Of those injured, seven were wounded by live ammunition (one of them critically) while three others were hurt by rubber bullets, according to the ministry.
Eyewitnesses told Anadolu Agency that the clashes erupted at the Dheisheh refugee camp near Bethlehem after it was stormed by an Israeli military force.
According to witnesses, army troops used live ammunition, rubber bullets and teargas to disperse Palestinian youth in the camp who respond by throwing stones.
After roughly one hour of clashes, the Israeli force withdrew from the area without making any arrests, witnesses said.
-W. BANK RAIDS
In a related development, 10 Palestinians were detained in overnight raids carried out across the occupied West Bank, according to the Israeli army.
In a Thursday statement, the army said the detainees had been referred to the relevant authorities for questioning for their alleged involvement in "popular terrorist" activities.
The Israeli army frequently carries out sweeping arrest campaigns across the West Bank -- including refugee camps -- on the pretext of searching for "wanted" Palestinians.
The latest arrests come amid ongoing tension in the Palestinian territories in the wake of U.S. President Donald Trump's decision on Dec. 6 to recognize Jerusalem as Israel's capital.
According to official Palestinian figures, more than 6,400 Palestinian prisoners -- including a number of women and children -- are currently being held by the Israeli authorities.