27 Syrian civilians killed by Assad regime in E. Ghouta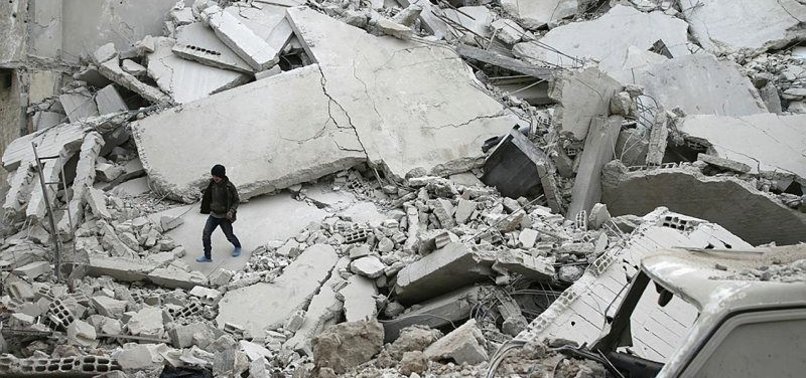 The death toll rose to 27 as regime forces push into opposition-held parts of Syria's Eastern Ghouta district with Russian air cover, according to Syrian civil-defense sources.
The White Helmets, a Syrian civil-defense group, said 11 civilians had been killed -- including White Helmets personnel -- by regime attacks in Eastern Ghouta's Misraba neighborhood late Wednesday.
Another six people were killed in the district's Arbin area on Wednesday night, the organization said, adding that three more civilians -- including two children -- had been killed by regime airstrikes in the Beit Sawa area.
The Russian air force, meanwhile, is providing air cover for regime forces besieging Eastern Ghouta, a suburb of Damascus, according to White Helmet sources.
Eastern Ghouta's Hammuria, Duma, Haresta, Ain Tarma, Madyara, Arbin, Kafar Batna, Misraba, Marj and Beit Sawa regions were all targeted with heavy artillery fire and airstrikes on Wednesday, the group asserted.
Injured people, it added, had been taken to nearby hospitals for treatment.
In a related development, White Helmets sources also said Thursday that four regime generals had been killed in clashes in Eastern Ghouta's Harasta area.
The assertion, however, has yet to be confirmed by independent sources.
Since mid-November, Eastern Ghouta has remained the target of fierce attacks by the Assad regime.
Under siege by the regime since late 2012, Eastern Ghouta falls within a network of de-escalation zones -- endorsed by Turkey, Russia and Iran -- in which acts of aggression are expressly prohibited.
Syria has only just begun to emerge from a devastating conflict that began in 2011, when the Assad regime cracked down on demonstrators with unexpected ferocity.