120 PKK terrorists neutralized in Turkey in December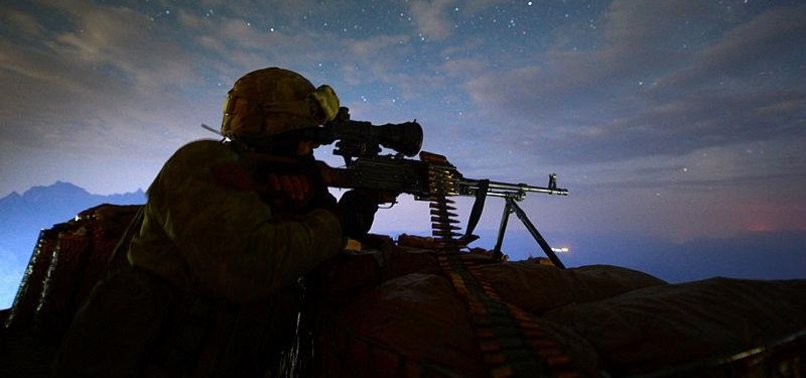 At least 120 PKK terrorists were neutralized in counter-terror operations over the last one month across Turkey, according to the figures compiled by Anadolu Agency.
Despite harsh winter conditions, security forces dealt a heavy blow to PKK terror organization with operations held from Dec. 1- Dec 31, in the eastern and southeastern provinces.
Three soldiers and a civilian were martyred as a result of PKK attacks in this period. Seven soldiers and a civilian were also injured.
163 out of 195 suspects arrested for PKK links were remanded in custody following the raids conducted in various provinces.
Security forces also destroyed many shelters, caves and depots used by terrorists in eastern provinces of Tunceli, Erzincan, Erzurum, Ağrı and Kars during the operations.
Senior figures of the terror organization -- including so-called Erzurum head Hamdusena Atala, codenamed Rohat Ahmet, and Murat Dağ, codenamed Ferhat Yılmaz, with a bounty of 1 million Turkish liras ($258,000) on their heads, were killed during the operation.
- LAST WEEK OPERATIONS
More than 10 PKK terrorists were neutralized during counter-terrorism operations over the last week across the country, according to the interior ministry on Sunday.
In a statement, the interior ministry said a total of 1,119 operations were conducted from Dec. 25-Jan. 1
Five terrorists were killed, seven others were captured and another surrendered during the operations, the statement said.
A total of 71 shelters including caves and 23 hand-made explosives were destroyed in eastern Van, Tunceli, Erzincan, Iğdır, Bitlis and Şırnak provinces and central Osmaniye province.
As part of the operations, 125 suspects were arrested for aiding and abetting the PKK, 325 for alleged links to Daesh, 493 for being members of FETO/PDY and five people were detained for having links to leftist terror organizations.
During the raids, 262 kilos of explosives,13 hand-grenades, 21 guns, including long-barreled weapons, and over 7,000 rounds of various ammunition were seized.
-ANTI-NARCOTICS OPERATIONS
Anti-narcotic forces conducted 2,844 operations in 77 provinces, the statement said. They rounded 3,764 suspects.
Various types of drugs including 447 kilos of hashish, 742 kilos of heroin, 2.26 kilos of cocaine and 13.2 kilos of methamphetamine were seized in the raids.
The PKK is listed as a terrorist organization by Turkey as well as the U.S. and EU. In its more than three-decade terror campaign against Turkey, more than 40,000 people have been killed.
Since the group resumed its armed campaign in July 2015, more than 1,200 people, including security force personnel and civilians, have lost their lives.