U.S. President Trump's political theatre over Jerusalem status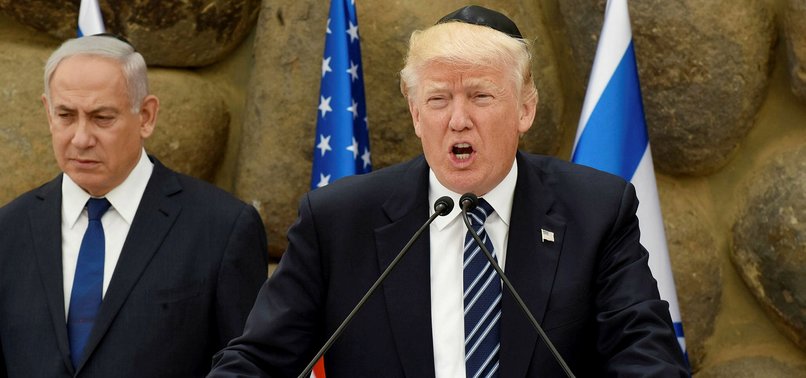 Washington-based political analyst Hussain Abdul-Hussain, who has written for the New York Times, The Washington Post, and Kuwaiti daily Al Rai, chastised U.S. President Trump's Jerusalem policy, and saying that "Trump's speech, in which he "recognized" Jerusalem as the capital of Israel, was more political theater than actual policy."
Hussain Abdul-Hussain, a Washington-based political analyst, has penned an article entitled 'Jerusalem as Trump's political theatre' on Washington decision on declaring Jerusalem as Israeli capital.

Abdul-Hussain has lashed out at U.S. approach towards Jerusalem status by writing in his column that "Trump's speech, in which he "recognized" Jerusalem as the capital of Israel, was more political theater than actual policy."

Here is full text of article written by Abdul-Hussain for Turkey's state-run agency:

"Jerusalem will remain the capital of Israel, and it must remain undivided," said presidential candidate Barack Obama in 2008. Had President Donald Trump, or any other sitting U.S. president, said what Obama told AIPAC during his electoral campaign, such statement would have made history.
But Trump's speech, in which he "recognized" Jerusalem as the capital of Israel, was more political theater than actual policy. Trump never uttered the word "united" to describe Jerusalem the capital. He said: "We are not taking a position of any final status issues, including the specific boundaries of the Israeli sovereignty in Jerusalem," meaning the borders of the Israeli Jerusalem were still up for negotiations with the Palestinians.
In other words, the Jerusalem that Trump recognized as the capital of Israel was not the one that many Israelis had in mind: undivided and under complete Israeli sovereignty. The Jerusalem that Trump recognized is more of a "virtual Jerusalem," one that all parties -- including many Arabs and Palestinians -- understand would remain under Israeli sovereignty in any final solution. Its name, even if not uttered, is West Jerusalem.
The "peace process" that was started in the early 1990s, was premised on the understanding that any future deal would restore the 1948 UN borders, albeit with some negotiated changes. Between 1948 and 1967, West Jerusalem was under Israeli sovereignty. East Jerusalem was under Arab Jordanian sovereignty. It is implicitly understood that in a final peace deal, the Israeli capital would move from Tel Aviv to West Jerusalem, whereas the Palestinian capital would move from Ramallah to East Jerusalem.
For reasons of political theater, leaders on both sides rarely use the prefix East or West. Both Palestinian and Israeli leaders often promise their constituents that Jerusalem would be the capital of their respective states in any future peace deal. The prefixes, East and West, are often implied.
Trump became the latest leader to announce a policy on Jerusalem without qualifying whether he meant West or East Jerusalem, and without specifying the city's borders. Such specifications would remain the prerogative of the two contending parties, the Palestinians, and the Israelis. This means that even after his hyped-up speech, the U.S. policy on Jerusalem and the peace process remained unchanged, a fact that the U.S. president made sure to emphasize.
Relocating a U.S. embassy building should not be construed as a change in policy. Had Trump intended to change the U.S. position on Jerusalem, he could have simply replaced the placard on the U.S. Consulate in East Jerusalem to make it read the "U.S. Embassy in Israel". That would have made headlines, instead of the American president promising to hire "engineers and architects" to relocate the embassy and change history.
So, what motivated Trump's political theater? The answer could be found in the president's "Recognizing Jerusalem" proclamation, circulated by the White House, which read as follows: "In taking this action, President Trump fulfilled a major campaign promise of his and many previous presidential candidates."
Fulfillment of "a major campaign promise" was the theme that dominated the headlines of most of America's right-wing and Conservative news sites. Trump's campaign promise on Jerusalem was never as clear as Obama's. Trump never said he would recognize an "undivided" Jerusalem as the capital of Israel. He only said "Jerusalem". His proclamation came as vague as his promise, giving the impression that he was "making history" in favor of Israel, while in fact leaving the U.S. policy on the Arab-Israeli conflict virtually intact.
President Trump's political theater aimed at winning favor with Israel, and therefore with Jewish American votes and monetary contributions for his reelection bid in 2020, started a few months back when he became the first sitting U.S. president to visit the Western Wall.
Both his "proclamation" and his visit aimed at showing that he was the American president who was willing to go where none of his predecessors dared to go. Trump even said that the process of relocating the U.S. embassy would take years. In other words, if Jewish Americans want to see the relocation process completed, they would have to bet on Trump and help him win reelection.
Trump's policy on Israel has not been all theatre, however. The Trump administration has been conducting a Middle East policy that favors Israelis over Palestinians in more ways than the traditional U.S. bias toward Israel. Of the many policies that favor the Israelis, Trump's announcement of relocating the U.S. embassy would have the least adverse effect on Palestinians.
Since his election, Trump has appointed three Orthodox Jews to official positions and entrusted them with brokering an Israeli-Palestinian peace deal. These are U.S. Ambassador to Israel David Friedman, peace envoy and Trump's son-in-law Jared Kushner, and the long-time Trump organization's confidante Jason Greenblatt. So observant these officials are that when President Trump flew to Saudi Arabia on a Friday, Kushner and Greenblatt had to ask for a special permission from their rabbi in New Jersey to fly on a Sabbath.
While there is nothing wrong with people practicing whatever faith they believe in, the view of the American trio might be informed by their religious education, rather than their experience in international affairs or conflict resolution. The Jewish Orthodox education of the three American officials, entrusted with brokering an Israeli peace deal with Palestinians, might be influenced by their dogmatic, rather than a realistic view of things.
Since Trump's election, his policy toward the Israeli-Palestinian conflict has focused on reaching a speedy peace deal, whatever kind of deal, that would allow him to take historic photo ops showing him supervising an Israeli-Arab peace deal, like past presidents Jimmy Carter and Bill Clinton. After all, Trump has always touted himself as the best dealmaker there is. He, therefore, thinks that brokering an Israeli-Arab deal -- a deal that has proven elusive for all his predecessors -- will show his unparalleled deal-making skills.
But the Israeli-Palestinian gap is too wide to bridge. Therefore, Greenblatt revived a peace deal that he was sure the Israelis would take: An Israeli peace deal with Arab countries, without the Palestinians. Greenblatt called his new approach the "outside-in plan", as opposed to the "inside-out approach" that pinned Arab peace with Israel on an Israeli peace with Palestinians as a prerequisite.
Trump's outside-in plan would hurt Palestinians more than relocation since it strips them of the Arab leverage that they have held for over half a century. By conditioning Arab peace on Palestinian peace with Israel first, the Israelis would have an interest in accommodating Palestinian demands in order to win a bigger prize, which is normal ties with the rest of the Arab world, including Saudi Arabia, a member of the group of the world's biggest 20 economies, the G20.
Because Jerusalem has a sentimental value for both Muslims and Jews, Trump's non-policy speech stirred much debate and headlines across the world. But the fact remains that Trump's speech on Jerusalem was a lot of talk and little change in policy. The actual change in U.S. policy, however, has been taking place behind closed doors, and in unannounced trips that Trump's "peace team" makes to some Arab capitals.