UN warns against sabotaging Syria talks in Geneva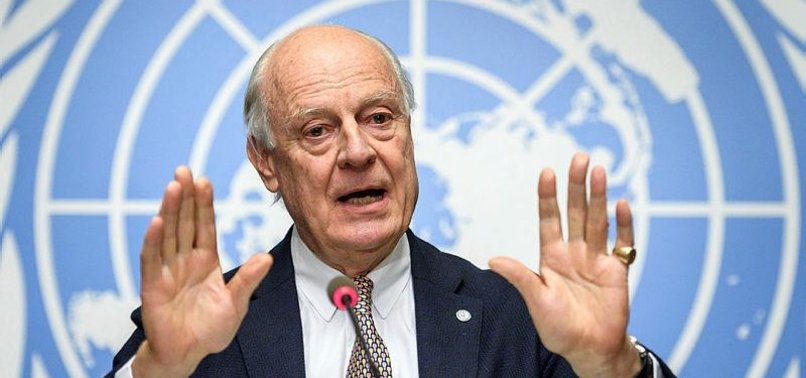 he UN envoy on Syria Staffan de Mistura on Thursday warned against sabotaging ongoing Syria peace talks in Geneva after the regime delegation announced it would return to the talks five days late without providing a reason.
The UN-backed Syrian peace talks continued in Geneva on Tuesday without the regime delegation after the Syrian government team left last week without confirming it would return. Opposition delegates have insisted that Syrian leader Bashar al-Assad should not be part of an interim government.
Regarding the regime's justification to delay its participation, de Mistura said "l have not heard any."
Noting that he has continued discussions with the opposition delegation without preconditions, de Mistura said the regime delegation is expected to arrive in Geneva on Sunday and that the talks are to continue until Dec. 14.
About the UN appeal for humanitarian access and medical evacuation of nearly 500 civilians in Eastern Ghouta, de Mistura said, "There has been zero outcome. That is very concerning."
UN humanitarian advisor Jan Egeland added: "l feel l failed. l feel we have not been able to fix it. It is very very heartbreaking to get photos every day from children who are increasingly malnourished and who are dying and we are not being able to help them."
The unified Syrian opposition delegation in Geneva on Wednesday urged the regime to participate in ongoing peace talks.
- 'AS LONG AS IT TAKES'
"They should bring their delegation here. We will stay as long as it takes," the unified opposition delegation spokesman Yahya Aridi told reporters on Wednesday in Geneva after meeting the UN deputy envoy on Syria, Ramzy Ezzeldin Ramzy.
"It is the responsibility of the international community and the special envoy to announce to the world which party is rejecting the negotiation," the chief opposition negotiator Nasr al-Hariri told reporters on Tuesday after meeting with de Mistura.
Last month, de Mistura proposed direct talks between the sides with no preconditions. The unified opposition accepted the offer but the regime delegation refused.
The latest round of talks began on Nov. 28 with meetings between de Mistura and the opposition. The regime delegates conferred with de Mistura a day later.
This eighth round of peace talks will continue to Dec. 14.
The negotiations' "four baskets" -- a new constitution, governance, elections and combating terrorism -- have been discussed, as well as issues such as detainees, abductees, missing persons and humanitarian Access.