Turkish lawmakers urge UN to reject US Jerusalem move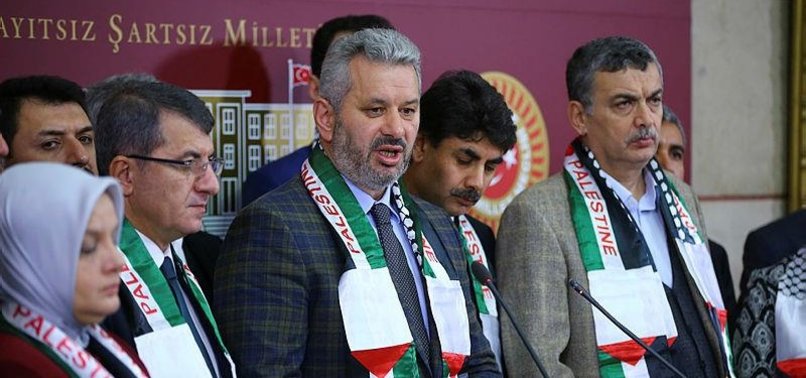 The head of Turkey's Parliamentary Union of Organization of Islamic Cooperation (PUOIC) on Thursday called on the UN to take an urgent decision against the U.S. move on Jerusalem.
In a joint press conference in the parliament, Orhan Atalay, slammed U.S. President Donald Trump's announcement on recognition of Jerusalem as Israel's capital.
"This attitude of the U.S. aims to make Israel's domination of occupied Jerusalem easier," said Atalay, a lawmaker of the ruling Justice and Development (AK) Party from Adana province.
"The UN General Assembly should take an urgent decision over nonrecognition of the U.S. move," he added.
On Wednesday, U.S. President Donald Trump announced the decision to recognize Jerusalem as Israel's capital and move the U.S. Embassy from Tel Aviv to the contested city, despite widespread international opposition.
In the joint press conference, Hasan Turan, the head of parliament's Turkey-Palestine parliamentary friendship group, warned the U.S. that Turkey would never accept this move.
"This decision, which will make Jerusalem available to Israel, is illegal and unacceptable," said Turan, a lawmaker of AK Party from Istanbul province.
"You may occupy Jerusalem physically, but you can never occupy what our hearts feel for Jerusalem," he said.
In the press conference, the head of the parliament's Human Rights Committee Ömer Serdar declared the U.S. decision "null and void".
"The Islamic world will continue to protect its legitimate case on Jerusalem," said Serdar, a lawmaker of AK Party from Elazığ province.
"It is impossible to recognize this decision which violates the UN decision and international law," he said, adding that the U.S. move will destroy peace in the Middle East.
Jerusalem remains at the core of the Israel-Palestine conflict, with Palestinians hoping that East Jerusalem -- now occupied by Israel -- might serve as the capital of a future Palestinian state.
Ahead of his election last year, Trump had repeatedly promised to relocate the U.S. Embassy to Jerusalem.