PKK/PYD tightens grip on Syria's Deir ez-Zour oilfields
PKK/PYD terror group has captured one of the country's largest oilfields without encountering any resistance Syrian province of Deir ez-Zour.
The PKK/PYD terrorist group reportedly continued its advance into Syria's Daesh-held Deir ez-Zour province on Wednesday, capturing one of the country's largest oilfields.
According to information obtained from local sources, the PKK/PYD seized control of the Jafra oilfield, located 22 kilometers east of Deir ez-Zour city.
Backed by the U.S., the PKK/PYD on Sept. 9 began its 56-kilometer advance into Deir ez-Zour without encountering any resistance from Daesh.
The PKK/PYD's main area of operations currently includes oil-rich areas of Deir ez-Zour located east of the Euphrates River near the border with Iraq.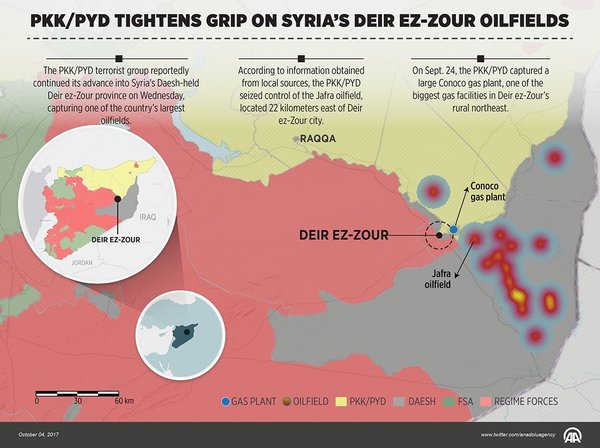 On Sept. 24, the PKK/PYD captured a large Conoco gas plant, one of the biggest gas facilities in Deir ez-Zour's rural northeast.
Most recently, the terrorist group captured the town of Suwar in northern Deir ez-Zour and the town of Kasra near the Euphrates.
Many of Syria's most productive oilfields -- including the Al-Omar, Tanak, Ward, Afra, Kewari, Jafra, Jarnuf, Azrak, Kahar, Sueytat and Galban fields -- are located east of the historic river.
Together, these strategic oilfields are estimated to account for roughly one third of Syria's total energy production.
The Daesh terror group, which held these fields for some three years, earned millions of dollars in revenue from the oil and gas they produced.
Syrian regime forces, meanwhile, backed by Russia, had tried to confront the PKK/PYD last month by crossing over to the east of Euphrates. Since then, however, they have largely suspended operations in the area.