Thousands protest outside Myanmar embassy in S.Africa
Thousand of protesters gathered outside the embassy of Myanmar in Pretoria on September 15 to condemn ongoing violence against Rohinya Muslims.
About 2,500 protestors gathered outside Myanmar's Embassy in South Africa's capital Pretoria Friday to condemn the ongoing killings of Rohingya Muslims in Myanmar's Rakhine state.
Moulana Ebrahim Bham, secretary-general of the Council of Muslim theologians (Jamiatul Ulama), wondered why Myanmar State Counsellor Aung San Suu Kyi, a Nobel laureate, remains silent in the midst of the ongoing violence.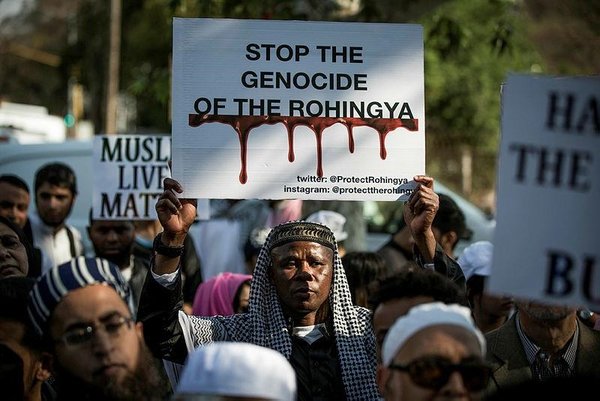 "God is greater than everyone. Who thought apartheid oppression would end in South Africa?" he said as protesters chanted "Down, Myanmar, down'' "Down with oppressors, down."
A representative of the Buddhist community in South Africa also joined the protest, calling on fellow Buddhists across the world to advocate the end of violence and provide humanitarian aid to the affected.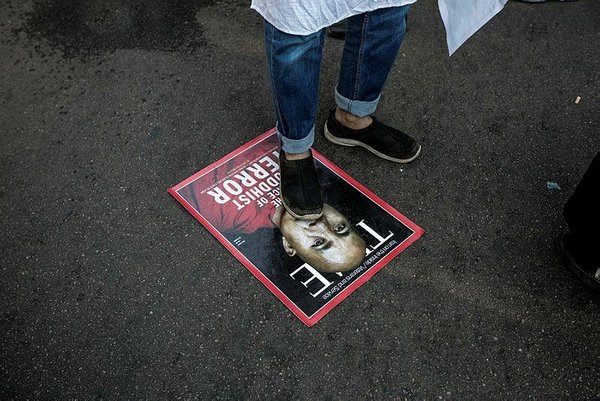 Ven. Gyalten Nyima said those killing the Rohingya are not following the true teachings of Buddhism, which calls for compassion, love, and equality.
Some protestors, including Muslims and Buddhists, carried a sign reading, "Buddhism and Islam unite to end genocide in Burma,'' using Myanmar's former name.
Sheikh Riad Fataar, the deputy head of South Africa's Muslim Judicial Council, held a prayer outside the embassy calling for an end to the violence.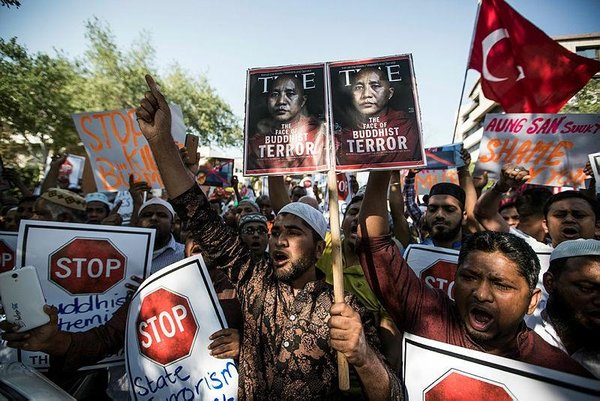 -SCATTERED VIOLENCE
Police fired stun grenades and tear gas as a few protesters turned unruly, but conditions were later restored to normalcy.
Anadolu Agency journalist Omer Kilic was hit with a stone on his forehead during an exchange between the police and a few protesters who threw stones and bottles. He was given emergency aid by paramedics on the scene.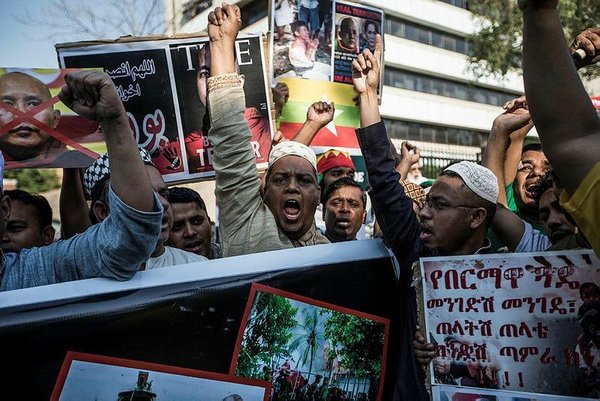 Protestors demanded that the Myanmar government immediately intervene and take responsibility for the widespread atrocities that have displaced thousands of Rohingya Muslims.
Since Aug. 25, more than 370,000 Rohingya have crossed from Myanmar's western state of Rakhine into Bangladesh, according to the UN.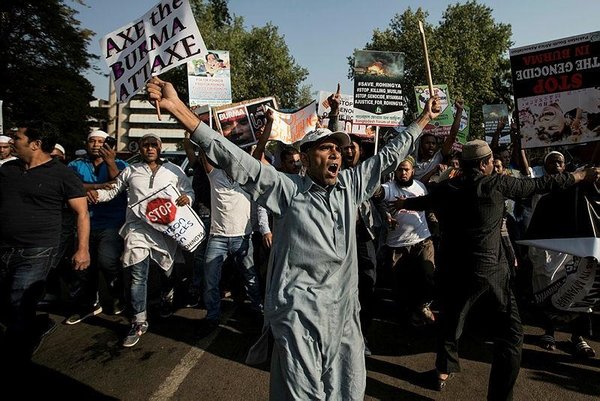 The refugees are fleeing a fresh security operation in which security forces and Buddhist mobs have killed men, women and children, looted homes and torched Rohingya villages. According to Bangladesh, around 3,000 Rohingya have been killed in the crackdown.
The Rohingya, described by the UN as the world's most persecuted people, have faced heightened fears of attack since dozens were killed in communal violence in 2012.