Several people injured after explosion at London train station
WORLD
Anadolu Agency & Reuters
Published
An explosion taking place at a train station sent commuters stampeding in panic, injuring several people on Friday at the height of London's morning rush hour, and police said they were investigating it as a terrorist attack.
18 people were injured at a London underground station on Friday after witnesses reported a blast on a packed rush-hour commuter train which police were treating as a terrorism incident.
Emergency services said they had been called to reports of a fire on a train at Parsons Green station in West London at 8.20 a.m. (0720 GMT)
"It is too early to confirm the cause of the fire, which will be subject to the investigation that is now underway by the Met's Counter Terrorism Command," London police said in a statement.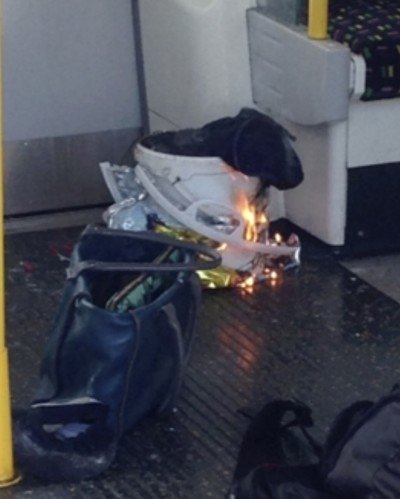 In this image made from video, fire raises at the southwest London subway station in London. (AP Photo)
Commissioner Neil Basu, the senior national coordinator for counter-terrorism policing, had declared it a terrorist incident, the statement said.
The Metro newspaper reported that passengers had suffered facial burns from a blast and others had been hurt in a subsequent stampede.
An unverified picture circulating on social media showed a white bucket with a supermarket freezer bag on the floor of one train carriage. The bucket was in flames and there appeared to be wires coming out of the top.

WITNESS SAYS INJURED IN STAMPEDE AT LONDON STATION
A woman at London's Parsons Green underground train station told Reuters on Friday she was injured in a stampede.
Armed police were at the scene, a Reuters photographer said.
A blast on an underground train at Parsons Green left some passengers with facial burns at the station, London's Metro newspaper reported on its website.
"I was on second carriage from the back. I just heard a kind of whoosh. I looked up and saw the whole carriage engulfed in flames making its way towards me," Ola Fayankinnu, who was on the train, told Reuters.
"A lot of people were trampled on. There were phones, hats, bags all over the place and when I looked back I saw a bag with flames. People were crying, shocked, a few people had been injured, some people had been trampled."
Outside the station, a woman was sitting on a pavement with a bandage around her leg, while armed police patrolled. A Reuters witness saw a woman being carried off on a stretcher with her legs covered in a foil blanket.
"KEEP CALM"
"Everybody should keep calm and go about their lives in as normal a way as they possibly can," Foreign Secretary Boris Johnson told BBC TV.
Television footage showed passengers being escorted off a carriage while a Reuters witness saw armed police scouring a stationary train.
A Reuters witness could see a bomb disposal unit at the scene while the fire brigade said it had sent six engines and 50 firefighters. London Ambulance said it had sent "multiple resources" including its hazardous area response team to the scene.
"Our initial priority is to assess the level and nature of injuries," it said.
'CALM AND VIGILANT'
Prime Minister Theresa May will attend an emergency COBRA (Cabinet Office Briefing Room A -- where crisis response meetings generally take place) meeting later Friday.
"My thoughts are with those injured at Parsons Green and the emergency services who, once again, are responding swiftly and bravely to a suspected terrorist incident," she said in a statement.
London Mayor Sadiq Khan said the city "utterly condemns the hideous individuals who attempt to use terror to harm us and destroy our way of life".
He urged Londoners to "remain calm and vigilant".
U.S President Donald Trump, who had criticized the London mayor following another attack in the British capital in early June, also reacted to the latest incident.
"Another attack in London by a loser terrorist. These are sick and demented people who were in the sights of Scotland Yard. Must be proactive!" he wrote on Twitter.
"Loser terrorists must be dealt with in a much tougher manner. The internet is their main recruitment tool which we must cut off & use better!"
HIGH ALERT
Parsons Green station and the roads around it were cordoned off and police advised people to avoid the area.
Footage from the scene also showed passengers being led off a train by police.
The ambulance service said it had sent a special hazardous area response team to the scene, amid reports of a white substance being found.
Britain has been on high alert following four terror attacks in London and Manchester this year which led to 36 deaths.
Around 5 million people use London's metro system daily.

Britain has suffered four attacks blamed on terrorists so far this year which killed 36 people. In 2005, 52 people were killed when four terrorists carried out suicide bomb attacks on three London underground trains and a bus.
In 2007, 52 people were killed in underground train and bus explosions in a series of coordinated suicide bomb attacks in London.