2 soldiers killed after Israeli jets hit alleged Syrian military chemical weapons facility
WORLD
Compiled from wire services
Published
An Israeli F-15 fighter jet takes off during an exercise at Ovda Military Airbase in southern Israel in this file photo from 16 May 2017 (Reuters Photo)

Israeli warplanes struck a military position in western Syria early Thursday, killing two soldiers and causing material damage, the Syrian army said, while other reports noted that the military position is responsible for development of chemical weapons.
The army said the air raid targeted a facility near the western town of Masyaf, close to the Mediterranean coast, a stronghold of the Assad regime
The army said the Israeli warplanes fired several missiles while in Lebanese air space, and warned of the "dangerous repercussions of such hostile acts on the security and stability of the region."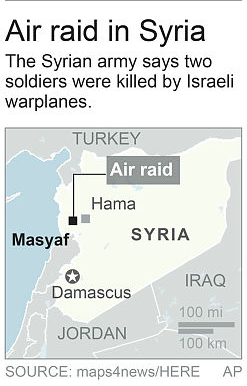 There was no immediate comment from Israel.
The airstrike took place beside an adjacent military camp where ground-to-ground rockets are stored, the Syrian Observatory for Human Rights said.
The United States has imposed sanctions on employees of the Scientific Studies and Research Centre, which it describes as the Syrian agency responsible for developing and producing non-conventional weapons including chemical weapons, something Damascus denies.
While largely staying out of the Syrian civil war, Israel has carried out a number of airstrikes against suspected arms shipments believed to be headed to Lebanon's Hezbollah militant group, which is fighting alongside Assad's forces.
Rami Abdurrahman, who heads the Britain-based Syrian Observatory for Human Rights, said two facilities were hit, a scientific research center and a nearby military base where short-range surface-to-surface missiles are stored. He said the attack killed two people and wounded five.
"Many explosions were heard in the area after the air raid," said Abdurrahman, whose group relies on a network of activists across the country. He said some of the blasts may have been secondary explosions from a missile storage facility being hit.
He said Lebanese Hezbollah fighters and Iranian military officials often visit the site. He said those killed and wounded were Syrians, adding that it was not immediately clear if there were casualties among Iranian and Hezbollah operatives.
The air raid came a day after a U.N. probe found the regime responsible for a chemical attack in April in northern Syria that killed more than 83 people. It was not immediately clear if the facility struck Thursday was used for the production or storage of chemical weapons. Syria denies having or using chemical weapons.
In 2013, Syria said Israeli warplanes carried out an air raid on a scientific research center in the Damascus suburb of Jamraya.