Former elite British soldier jailed for making bombs
A terrorist who infiltrated the British military has been jailed for 18 years for supplying bombs to dissident Irish republicans.
A former elite British Army soldier-turned-Irish-republican sympathizer was sentenced to 18 years in jail on Monday for amassing an arsenal intended for use in terrorist attacks.
Ciaran Maxwell, a 31-year-old former Royal Marine, had pleaded guilty to a series of terror offences brought against him over 43 caches full of bombs and bomb-making materials found in Northern Ireland.
A court was told that four of the pipe bombs he made were used in attacks in Northern Ireland and other weapons found in the hides included anti-personnel mines, mortars and ammunition.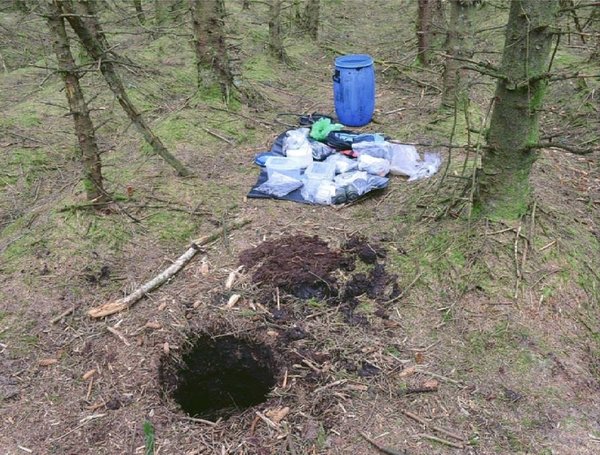 * An underground hide found in the forest in County Antrim, Northern Ireland.
The former soldier appeared in court on Monday by video link from Woodhill Prison in Milton Keynes, England.
Maxwell had been serving as a soldier in Exminster, southern England when he was arrested last year after the discovery of two dissident Irish republican arms dumps near Larne, Northern Ireland.
Originally from Larne and raised as a Catholic, Maxwell was described as being "motivated by hostility to the United Kingdom" by the judge, Mr Justice Sweeney.
Maxwell had betrayed his position in the armed forces, the judge added, saying the purpose of the pipe bombs constructed by the former soldier was "to maim and kill a potential victim". Maxwell made 14 devices in total.
He also rejected Maxwell's claim that he was motivated by post-traumatic stress disorder resulting from a sectarian beating he received as a teenager.
The judge said Maxwell had enough chemicals in Northern Ireland to create "100 kg of high explosives, larger than the notorious Enniskillen bomb". That IRA bombing in 1987 claimed 12 lives.
He said Maxwell was "dangerous" and threatened the political stability of Northern Ireland as he had "considerable skills as a terrorist bomb maker" and enjoyed his work.
A co-accused, Niall Lehd, was previously sentenced to six years in prison.