Violence erupts at London protest against police brutality
Protesters angry over the death of a young black man following a police chase have clashed with riot police in London, throwing bottles and fireworks and setting garbage cans on fire.
A protest in east London against police brutality turned violent late Friday as demonstrators hurled bottles, fireworks and other projectiles at riot officers.
The protesters were angry over the death of Rashan Charles, a 20-year-old black man who died last week in hospital after being pinned to the floor of convenience store by police officers who had been chasing him.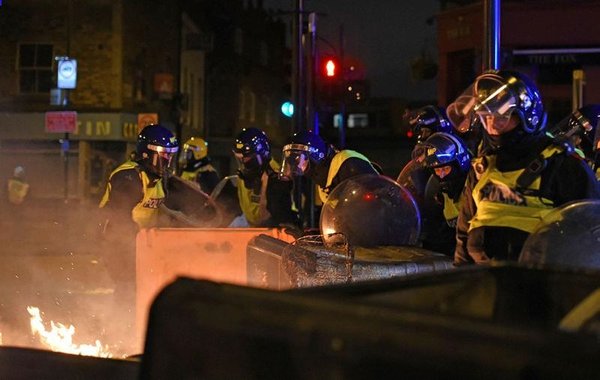 * British Riot police gather at a burning barricade blocking a street in east London, late Friday July 28, 2017 (AP)
Several dozens protesters, some wearing masks, lit garbage cans on fire and stopped cars from passing erecting barricades made of mattresses and other large debris.
The protest took place near the business on Kingsland Road where Charles was apprehended. The windows of several shops were smashed.
Police declined Saturday to provide information on the number of people injured or whether anyone was arrested.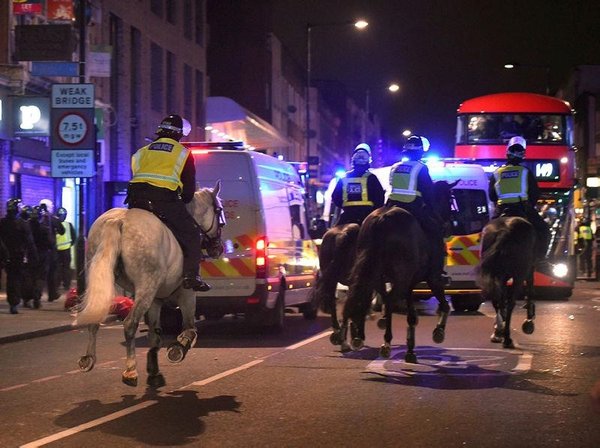 * British Riot police advance along a street in east London, late Friday July 28, 2017. (AP)
The Independent Police Complaints Commission, a police watchdog, announce Friday it would investigate the circumstances surrounding Charles' death.