EU, Serbia maintain membership talks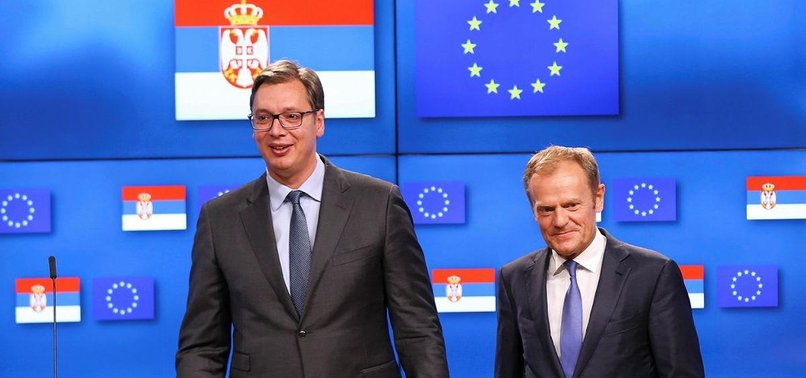 EU leaders this week put a "turbulent" few months in Serbian ties behind them with a commitment to see the Balkan country join the bloc.
European Council President Donald Tusk, speaking after a meeting with Serbian President Aleksandar Vucic in Brussels on Friday, praised the latter's commitment to engaging with Kosovo -- a former Serbian province still unrecognized by Belgrade.
In a statement, Tusk said: "After a rather turbulent start to the year, today Serbia engages in dialogue -- talking to, not at, each other -- and I welcome your continued commitment to the Pristina-Belgrade Dialogue and your readiness to pursue, domestically and with Kosovo counterparts, a further reflection on future relations."
Vucic on Thursday met President of the European Commission Jean-Claude Juncker in Thessaloniki, Greece, where the two discussed EU integration.
Juncker said he communicated a "clear and unequivocal European perspective" to Serbia at the meeting.
Vucic urged Junker to visit Serbia and stressed that, since 2000, Serbs have believed in joining the EU but added that much time had passed.
"If the EU had set a clear time frame, the Serbian people would be much more motivated to do what they needed to do," Vucic said, asking the EU to set a timeframe for Serbia's membership.
"Serbia will continue to work on euro integration, but we want the process to have [a] successful ending," he added.
KOSOVO DISPUTE
Dialogue between Belgrade and Pristina began in 2011 -- the first negotiations between the two countries since Kosovo unilaterally declared independence in 2008.
Belgrade insists the country remains part of Serbia.
Since then tensions have remained between Kosovo's ethnic-Albanian majority and a small Serb minority in the north.
Tusk confirmed that reforms and "the end-game of the Dialogue" is the path for Serbia's EU membership.
"This is what we promised in Thessaloniki and what we are ready to deliver. You [Vucic] have reiterated lately that Serbia has made its geostrategic choice, and that there is no turning back. We expect your choice will guide your actions," Tusk added.
Kosovo has nearly 1.8 million people, over 90 percent of whom are Kosovar Albanians.
It is recognized by over 100 countries, including the U.S., Britain, France, Germany and Turkey.
Russia and China are among the countries that have not yet recognized Kosovo's independence.
EU TALKS
Vucic stated before arriving in Brussels that within the scope of EU contacts, Serbia is expecting for a clear date for the accession process.
Serbia recently opened two more chapters in EU membership negotiations in Luxembourg, focusing on intellectual property legislation and the EU customs union.
Belgrade has thus opened 10 of 35 negotiating chapters.
However, Serbia's path to EU membership does not only cross Kosovo. The country's top officials have repeatedly emphasized that Serbia will never implement or support Western sanctions against Russia.
However, Russia thinks Serbia's EU bid is set to fail because of Brussels conditions.