Daesh terrorists attack parliament and mausoleum in Iran
WORLD
Compiled from wire services
Published
Daesh terrorists launched two attacks in Iran's capital on Wednesday morning, killing at least 12 at the parliament and wounding several people in the Mausoleum of Ayatollah Khomeini in southern Tehran.
Gunmen opened fire at Iran's parliament and the shrine of Ayatollah Khomeini in the capital of Tehran on Wednesday, killing 12 , local media reported.
Four men attacked parliament, the IRNA news agency reported, citing lawmaker Qolam-Ali Jafarzadeh Imenabadi.
The attackers have taken 4 people hostage at the Iranian Parliament buildings. The hostages were rescued.
Three guards were wounded when the men, armed with Kalashnikov assault rifles and a handgun, opened fire. Imenabadi told the agency one of the guards was said to have been killed.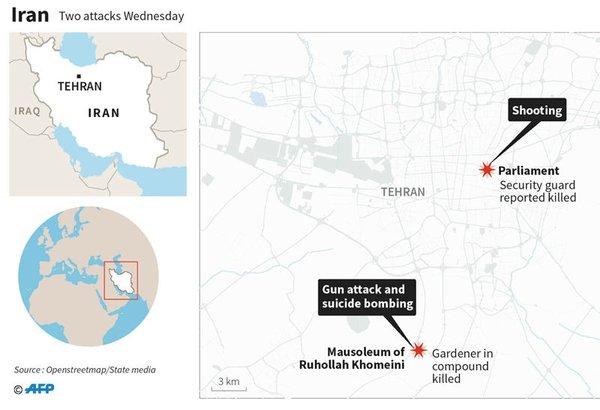 One attacker detonated a suicide vest at the mausoleum of Ayatollah Khomeini in southern Tehran, one was killed by the security forces and the rest of the assailants were arrested, the Governor of Tehran was quoted as saying by state broadcaster IRIB.
In an apparently coordinated attack, four attackers opened fire at the shrine of Khomeini, the founder of the Islamic republic, the Fars News Agency said.
Three of the attackers opened fire on visitors to the shrine, while the fourth detonated a bomb in a suicide attack outside a police station opposite the shrine, Fars said. It added that one attacker committed suicide by swallowing a cyanide pill while a female terrorist was captured.
Ali Khalili, a spokesman for the shrine, told IRNA an armed man had detonated himself outside the mausoleum.
Security at the shrine said they had defused another suicide vest at the scene.
Fars reported that Daesh had claimed responsibility for the attack but gave no further details.