Ankara knows who is harboring FETÖ mastermind Öksüz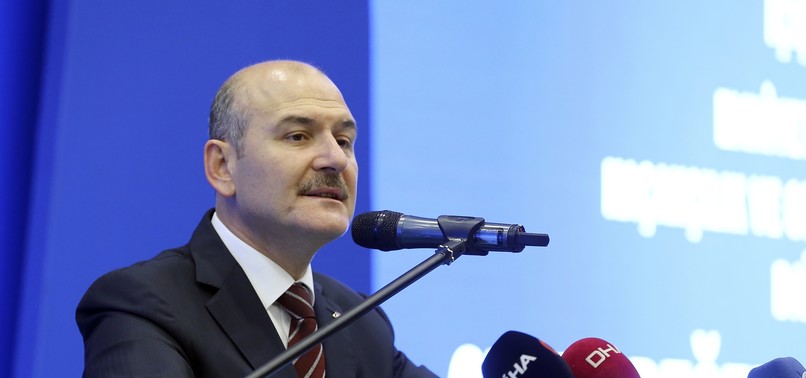 Interior Minister Süleyman Soylu revealed that Turkey knows the location of top FETÖ figure Adil Öksüz, who is accused of masterminding the 2016 coup attempt, and is tracking his movement
Turkey now knows the whereabouts of Gülenist Terror Group (FETÖ) mastermind Adil Öksüz, Interior Minister Süleyman Soylu said on Sunday. Regarding whether allegations over Öksüz being in Germany were true, Soylu neither could confirm nor deny but said that Ankara knew where he was currently located.

A former theology lecturer at Sakarya University, Öksüz was an obscure figure for the Turkish public before the failed July 15, 2016 coup attempt. After countless investigations, Öksüz is now considered to be one of the most important figures behind the coup attempt and is one of the most wanted men in Turkey.

As an "imam" or point man for FETÖ, he planned the putsch attempt with the terrorist group's infiltrators in the military. Öksüz was first detained just outside Akıncı Air Base, a military base in the capital Ankara after the coup attempt was foiled. The base served as a kind of command center for the putschists, with warplanes taking off from there to strike a number of strategic locations. However, hours after his detention, a court controversially ordered his release on probation.

Referred to as FETÖ's "black box" for his intricate ties to senior cadres and prominent role in the coup attempt, Öksüz reportedly acted as an Air Force leader for the terrorist group. FETÖ leader Fetullah Gülen and Öksüz are being tried in absentia in several coup cases. Both men face multiple life sentences for their suspected role in the coup attempt that came three years after FETÖ members in the judiciary and law enforcement tried two other unsuccessful coup attempts.

Hakan Bıyık, a colonel who confessed his ties to the terrorist group, had revealed Öksüz's role in the coup attempt in his testimony and detailed how Öksüz and military officers in the "Peace At Home Council" plotted the insurrection bid in a villa in Ankara. Adil Öksüz told interrogators that he was near Akıncı base to "check out a piece of land he was planning to purchase," just like Kemal Batmaz, his alleged co-conspirator in the putsch attempt, when he was captured.

Nationwide manhunts spread over many months failed to yield results and authorities concluded that he had fled abroad. He is currently on the Interior Ministry's Most Wanted list, with a reward of TL 4 million for information on his whereabouts.

SPOTTED IN GERMANY

In 2018, Öksüz was allegedly spotted in Germany, after Anadolu Agency reported that they had received a letter which said he was hiding in Berlin's Neukölln district, in a house owned by a Turkish national. The FETÖ terrorist group, which runs a global network of members, has its largest network in Europe in Germany, running a large number of associations, companies, and websites in the country.

Soylu accused Europe and Germany of harboring wanted terrorists who had direct involvement in the coup attempt. The group is known for offering financial assistance to its members arriving in Germany in pursuit of asylum. More than 4,000 FETÖ members are believed to have fled to Germany after the coup attempt. He also slammed the U.S. for protecting ringleader Fetullah Gülen, who still resides in Pennsylvania.

Ankara formally requested Gülen's extradition on July 19, 2016, four days after the coup attempt. Since then, however, Turkish officials believe they have been deliberately "stalled" as U.S. officials keep on saying they are reviewing the evidence.

Turkey has submitted fresh evidence to the U.S. that further solidified the links between Gülen and the coup attempt. According to sources inside the Turkish presidency, the evidence was handed to the U.S. during President Recep Tayyip Erdoğan's visit to the White House on Nov. 13-14.

One piece of evidence showed a cellphone belonging to Hakan Çiçek, a FETÖ figure who was captured at the Akıncı military base in the capital Ankara during the coup attempt, being turned on near Gülen's ranch in Pennsylvania.

Gülen, who arrived in the U.S. in 1999, currently resides in a luxurious retreat in Saylorsburg, Pennsylvania. He never leaves his well-guarded compound, but often gives interviews to foreign media.

The minister said FETÖ could still organize small-scale events to harm Turkey and that Ankara would continue its fight against terrorism both within and beyond the country's border.