Whirlwind of meetings for President Erdoğan in New York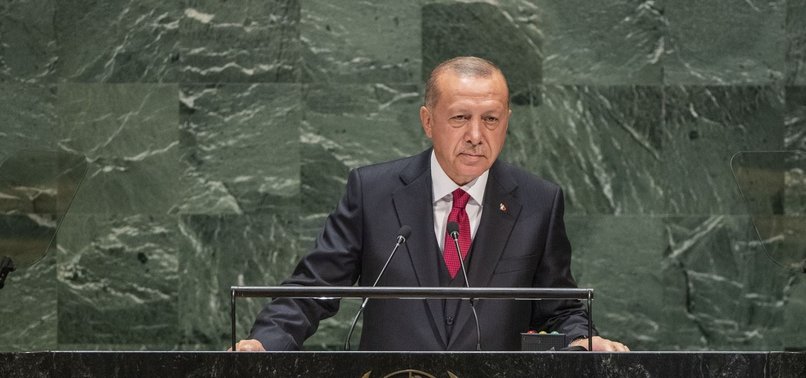 During this week's UN General Assembly in New York, Turkey's president had a host of meetings with leaders from around the globe, in areas ranging from Europe and Asia to the Americas.
Turkish President Recep Tayyip Erdoğan's meetings included talks with German Chancellor Angela Merkel, the presidents of Croatia, Iraq, Moldova and Somalia, the head of Libya's Presidential Council, the emir of Qatar, and the British and Pakistani prime ministers.
On the first day of his visit, Erdoğan hosted Lindsey Graham, senior U.S. senator from South Carolina, at the Peninsula Hotel. That same day he discussed bilateral relations and regional issues with his U.S. counterpart Donald Trump on the phone.
Erdoğan also attended the annual dinner by the Turken Foundation, a group which supports Turkish and Muslim students in the U.S. He also met with representatives of Muslim communities in the U.S. and took part in a meeting of the Turkish American National Steering Committee (TASC).
Erdoğan hosted representatives of Jewish institutions in the U.S. at the Peninsula Hotel. He also opened a photo exhibition featuring the works of renowned Turkish-Armenian photographer Ara Güler.
Later, Erdoğan met with Belgian Prime Minister Charles Michel and Zeljko Komsic, the Croat chairman of the Presidency of Bosnia and Herzegovina, at UN headquarters.
Erdoğan gave a speech at a climate change summit at UN headquarters on Monday. Pakistani Prime Minister Imran Khan was a guest of Erdoğan's on the same day.
In addition to giving a speech at the opening of the 74th UN General Assembly, Erdoğan also met with UN Secretary-General Antonio Guterres, Albanian Prime Minister Edi Rama, Qatari Emir Sheikh Tamim bin Hamad Al Thani, and British Prime Minister Boris Johnson. Later the president received Italian Prime Minister Giuseppe Conte.
On Wednesday, Erdoğan attended a reception given by Trump in honor of the heads of delegations.
On the last day of his visit, he also spoke at an event at UN headquarters co-hosted by Turkey and Pakistan on countering hate speech.
During the assembly, Erdoğan also had meetings with Croatian President Kolinda Grabar Kitarovic, Iraqi President Barham Salih, Moldovan President Igor Dodon, head of Libya's Presidential Council Fayez Sarraj, Sudanese Prime Minister Abdallah Hamdok, Greek Prime Minister Kyriakos Mitsotakis, and Czech Prime Minister Andrey Babis. He took part in a trilateral meeting with the leaders of Pakistan and Malaysia.