5.8 magnitude earthquake shakes Istanbul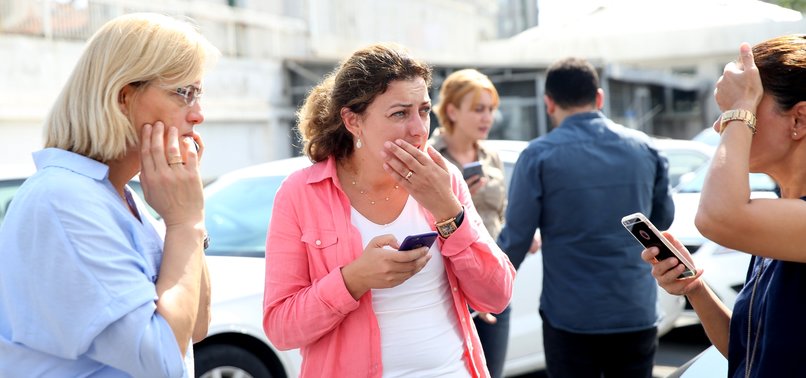 A powerful earthquake struck the Turkish metropolis Istanbul on Thursday, according to Turkey's Disaster and Emergency Management Authority (AFAD).
AFAD said a 5.8-magnitude earthquake centered in the Sea of Marmara hit at 1.59 p.m. (1059GMT).
"Eight people were slightly injured in the earthquake," President Recep Tayyip Erdoğan told reporters at Istanbul's Atatürk Airport returning from his visit to the UN General Assembly in New York.


"According to AFAD, the magnitude of the earthquake is 5.8 and 28 aftershocks are recorded so far," Erdoğan said.
The earthquake, off Silivri district, occurred at a depth of 6.99 kilometers (4.3 miles), some 22 km (13.6 mi) from Silivri.
The region was also shaken by aftershocks.
A 3.6-magnitude earthquake also shook Istanbul earlier today, at 10.32 a.m. (0732GMT), said AFAD. The epicenter of the quake was the Sea of Marmara.
On Tuesday, a 4.6-magnitude earthquake also hit off Silivri, according to AFAD.
In addition to Istanbul, Turkey's most populous city, the earthquake was also felt in nearby urban areas such as Kocaeli, Sakarya, Yalova, Tekirdağ, Edirne, Manisa and Kırklareli.
Kocaeli Governor Hüseyin Aksoy and AFAD officials in Sakarya told Anadolu Agency that no negative outcome of the quake has been reported so far.
The Istanbul Governorship said primary and secondary schools have been temporarily suspended on Thursday due to the quake.
Bursa Governorship announced all schools were suspended on Thursday in the province due to the anxiety that came after the quake, according to the provincial directorate for national education.
Yalova Governorship also decided on a one-day suspension of all schools in Thursday afternoon, Ali Tosun, provincial director of national education, told Anadolu Agency.
Our biggest consolation is that there is not any loss of life due to the quake, Turkey's Health Minister Fahrettin Koca said on Twitter.
Koca added that the Health Ministry is on alert for all kinds of disasters.
Youth and Sports Minister Mehmet Kasapoğlu and Justice Minister Abdulhamit Gül conveyed good wishes to everyone who were affected by the quake.
A minaret of a mosque in Avcılar district in Istanbul fell due to the quake.
According to AFAD, two buildings were damaged in Sultangazi and Eyüp districts while residents of a building which leaned aside due to the earthquake were evacuated in Şirinevler district of Istanbul.
Istanbul Mayor Ekrem Imamoğlu said he was happy that there is not any loss of life or crucial injury according to initial reports.
Aftershocks could create an energy which will break the earth's crust, Kerem Kınık, Turkish Red Crescent head, said on Twitter.
Kınık urged citizens to leave their houses which were damaged and risky to stay in. The buildings established before 1999 face a risk of demolition, he warned.