Talks ongoing with US, Russia on Euphrates operation: Turkey's Defense Ministry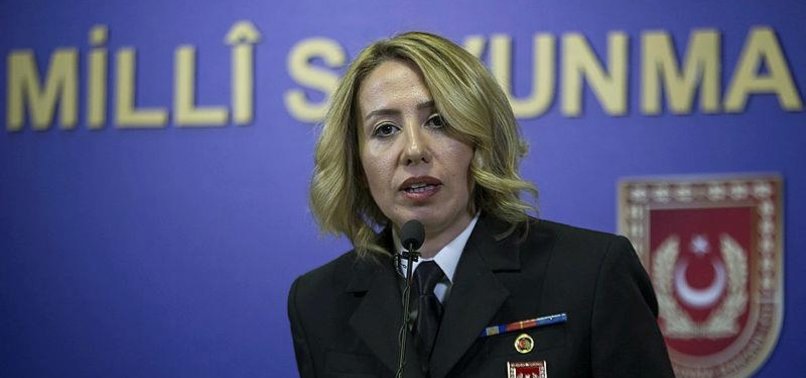 Turkey continues to hold bilateral meetings, high-level discussions and coordinate with the U.S. and Russia as part of an expected operation east of the Euphrates River in Syria, the Defense Ministry said Tuesday.
It also continues to coordinate with Russia over conducting joint patrols in Syria's Tal Rifaat city, spokeswoman Lt. Cmdr. Nadide Şebnem Aktop said at a press briefing.
Aktop said Turkey was also continuing its domestic and cross-border fight against terror organizations including FETÖ/PDY, PKK/KCK/YPG and Daesh, which are threatening the country's peace and security.
"Within this framework, a total of 54 terrorists have been neutralized, including one in the grey category of the [Interior Ministry's] wanted list, during the operations, which have been conducted resolutely both inside Turkey and in northern Iraq," Aktop said.
In its more than 30-year terror campaign against Turkey, the PKK -- listed as a terrorist organization by Turkey, the U.S. and the European Union -- has been responsible for the deaths of nearly 40,000 people, including women and children. The YPG is the group's Syrian branch.
Aktop said Turkey destroyed 204 ammunition depots and shelters used by terrorists and seized 28 weapons, four heavy weapons, ammunition, 55 hand grenades and 44 improvised explosive devices as well as five tons of drugs.
Recalling the Sochi Agreement signed between Turkey and Russia on Sep. 17, 2018 for the stabilization of the de-escalation zone in Syria's Idlib province, Aktop said Turkey was successfully working on the implementation of the agreement in coordination with Russia.
"Thanks to the efforts made, a possible refugee influx has also been prevented," Aktop added.
FETÖ and its U.S.-based leader Fetullah Gulen orchestrated the defeated coup of July 15, 2016, which left 251 people martyred and nearly 2,200 injured.
Ankara also accuses FETÖ of being behind a long-running campaign to overthrow the state through the infiltration of Turkish institutions, particularly the military, police and judiciary.