Turkish science team completes Antarctic mission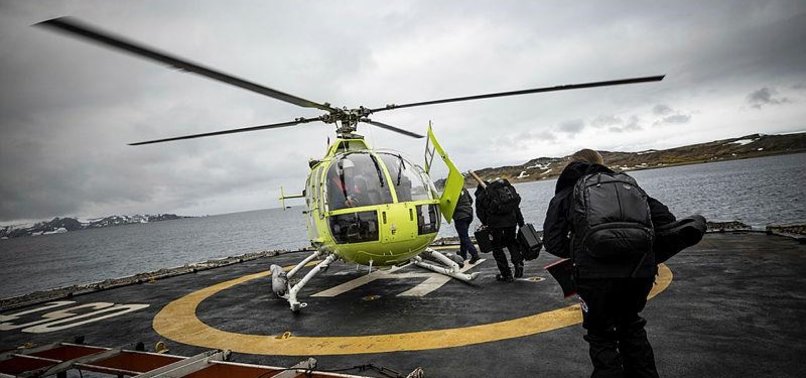 Turkey's third National Antarctic Science Expedition team completed its mission on the icy continent after 30 days of scientific studies.
For a month, a group of 24 scientists stayed in Betanzos, a Chile-flagged ship on an area of 300 square meters (3229 square feet).
Some 14,000 kilometers (around 8700 miles) away from Turkey, scientists worked at temperature below zero and conducted more than 12 hours of field work per day on the continent experiencing summer.
The weather conditions were not always appropriate for the field work. Sometimes, a wind forced the team to stay inside and to examine the samples collected from the field.
They also spent time exercising, watching movies, reading books, and chatting when inside the ship.
Only entering into the network of a few satellite systems, the frozen continent enabled limited communication. Scientists kept in touch with their relatives in a limited time via e-mails and satellite phones once a week.
The daily nutrition was among the priorities of the scientists. They ate food cooked by Chilean cooks, consumed energy bars, chocolate, and dried foot.
Speaking on her memories in Antarctica, Sahika Ercumen, a Turkish free-diving world record holder, said that it was one of the most special moments in her entire sports career to represent Turkey in the frozen continent.
A member of the expedition team, Murat Ates from Turkish naval forces said: "We have carried out our works under difficult conditions, but we ultimately succeeded."
Earlier in February, a Turkish team traveled to Antarctica as part of the Third National Antarctic Science Expedition to spend 30 days, which was supported by the Turkish Presidency, the Industry and Technology Ministry, and ITU's Polar Research Center, along with other Turkish universities.
During the expedition, Anadolu Agency covered the team's scientific efforts in Antarctica with a group of three journalists; economy correspondent Dilara Zengin, photojournalist Ozge Elif Kizil and cameraman Servet Ulku.
In April 2016, the first-ever Turkish team of researchers -- including doctors, botanists, geologists, and oceanographers from seven universities -- traveled to Antarctica to study the impact of climate change.
Antarctica, the coldest continent on earth, has served as a scientific research zone since the signing of a 1959 treaty.