Khashoggi's fiancee would've likely been Saudi's 2nd victim, Istanbul police say in new report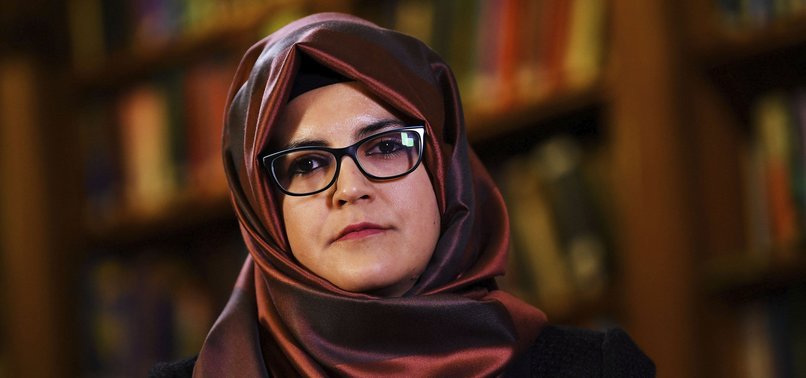 The Istanbul Police Directorate revealed shocking details about the murder of Saudi journalist Jamal Khashoggi, saying that his fiancee Hatice Cengiz would have likely been the Saudi assassination squad's second victim had she been at the consulate.
In its 2018 annual report, the directorate said that the officer standing guard in front of the consulate could have been the key to Khashoggi's salvation but also could've been Cengiz's ticket to the other side with Khashoggi.
"The guard did not mention to the Saudis inside the consulate that Khashoggi had someone waiting for him outside. If he had, there were two possibilities," the police said.
The report also stated that Saudi Arabia's Istanbul Consulate General had 2 water wells and a natural gas and wood fired tandoor oven.
If the tandoor oven was used with both heating sources then the temperature inside could have easily reached 1,000 degrees, effectively leaving no traces of DNA behind.
In another chilling revelation, police found that the Saudi assassination squad had ordered 32 portions of raw meat after the deed, strengthening suspicions that they got rid of the journalist's body by burning it.
The fact that chemicals were used to clean the scene indicates efforts to obscure evidence, the report underlined, pointing out that footage showed the Saudi squad having a hard time carrying their suitcases — which should've been left at their hotels — while exiting the consulate building, but had no difficulty whatsoever upon entrance.
The report also revealed that the Anti-Terrorism Branch of the Police Directorate received 224 calls and reports from people about Khashoggi, with a particularly interesting one from the United States.
According to the police, a person who claimed they had ties to NASA said: "They took Cemal Kaşıkçı to Cairo and killed him."
The Istanbul Security Directorate said it carefully examined every report they considered serious and credible.
Khashoggi was killed and dismembered by a group of Saudi operatives in the country's consulate in Istanbul on Oct. 2, 2018. Initially denying and later downplaying the incident as an accidental killing in a fistfight, almost three weeks after the disappearance Riyadh finally admitted that Khashoggi was murdered in a premeditated action but denied any involvement of the royal family.
The incident was blamed on lower-level officials. A Saudi public prosecutor's spokesman said that 21 Saudis had been taken into custody over the case, 11 of whom had been indicted and referred to trial. The prosecutor has said that the authorities were seeking the death penalty for five of the 11 suspects.
Despite more than 100 days passing since Khashoggi's assassination, the whereabouts of his body remains unknown.