Saudi prosecutor continues search in Istanbul as Erdoğan urges concrete steps in Khashoggi case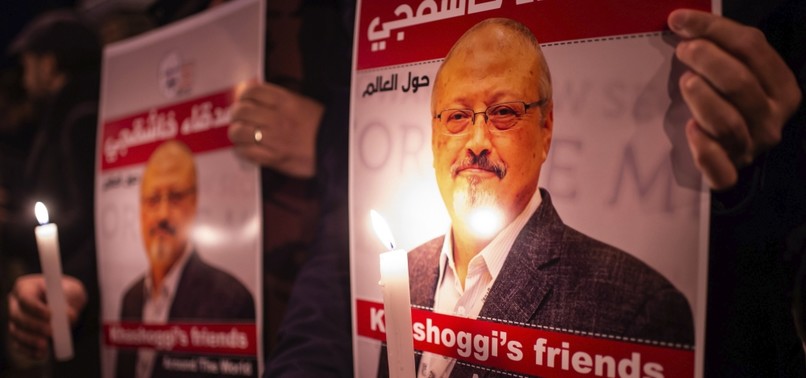 The investigation into the murder of Saudi journalist Jamal Khashoggi is ongoing, trying to cast light on the incident. To that end, Saudi Attorney General Sheikh Saud al-Mojeb is in Turkey holding meetings with his Turkish counterpart for the second time in two days.
Mojeb, who arrived in Istanbul on Monday, visited a courthouse in Istanbul yesterday and met with Turkey's Chief Public Prosecutor İrfan Fidan for the second time over the killing of Khashoggi. Following the meeting, al-Mojeb also visited the Saudi Consulate in Istanbul with an accompanying delegation.
Khashoggi went missing on Oct. 2 after entering the Saudi Consulate in Istanbul. Saudi Arabia initially denied any involvement in the disappearance before eventually alleging that he had died in a fistfight with officials who had embarked on an unauthorized extradition operation. Later, almost three weeks after Khashoggi's disappearance, Riyadh admitted that the murder was premeditated. The matter sparked global outrage, followed by various condemnations and visa revocations of the suspects by numerous countries.
President Recep Tayyip Erdoğan said yesterday that the Khashoggi murder needs to be solved and that there is no point in trying to protect the culprits. Erdoğan also added that Saudi authorities should respond to the question of who sent the team of 15 Saudis, many of them Saudi intelligence operatives, to Istanbul on the day of Khashoggi's disappearance.
All of the identified individuals have since left Turkey and were later arrested by Saudi authorities.
"If we turn blind eye to the issue, we have a joint debt against humanity, we have a conscientious debt," he said during his address at the ruling Justice and Development Party's (AK Party) group meeting in Parliament, stressing that those involved in the process should be held responsible.
Meanwhile, White House Press Secretary Sarah Sanders said in a media briefing on Monday that the Donald Trump administration was "weighing different options" and would make an announcement in response to a question about what actions they might take against Saudi Arabia.
U.S. Secretary of State Mike Pompeo said earlier last week that the U.S. State Department has begun revoking the visas of responsible individuals and is examining the applicability of the global Magnitsky sanctions, which target the people responsible for human rights violations or corruption.
In relation to the likely sanctions, U.S. President Donald Trump underlined last week that he will leave the consequences for Saudi Arabia up to Congress, who would later consult him. Trump also commented that Riyadh was trying to cover-up the matter and Saudi Crown Prince Mohammed bin Salman (widely known as MBS) may have been involved in the case.
However, Trump has been insisting that he does not want to jeopardize a $110 billion weapons order by Saudi Arabia, saying that it will support 500,000 U.S. jobs. The European Union, on the other hand, has been waiting for the clear results of the investigation and the unveiling of those who are behind the murder to take concrete steps, such as imposing sanctions on arms sales.
The EU will make a joint decision on how to punish Saudi Arabia for the gruesome murder of the journalist, German Chancellor Angela Merkel said on Saturday. The decision, including a potential weapons sales ban, will depend on the results of the murder investigation, she added. However, so far, only Merkel pledged to stop all of Germany's arms exports to Riyadh until the killing of Khashoggi has been investigated, while the United States, Spain and France said they did not see the halt of arms contracts as a good response on the grounds that it may hurt their defense sector. In 2016, Europe sold some 893.15 million euros worth of arms to the Saudis.
Fiancee of Khashoggi
holds Riyadh responsibleHatice Cengiz, Khashoggi's fiancee, said on Monday at a memorial in London that Saudi Arabia was responsible for his death.Pointing out that the murder took place inside a Saudi diplomatic mission, Cengiz underscored that Saudi authorities are behind his murder in such circumstances and the explanations given by Saudi Arabia so far are not sufficient. She added that the kingdom should give more details so that those responsible can be brought to justice. Commenting on Trump's stance on the matter, Cengiz said, "I am disappointed by the actions of the leadership in many countries, particularly in the U.S."
She also urged Trump to help reveal the truth and ensure justice be served by not paving the way for a cover-up of the matter.
"Let's not let money taint our conscience and compromise our values," she said.