Turkish Red Crescent eyes bond with Sudan through cataract surgeries
TURKEY
Compiled from wire services
Published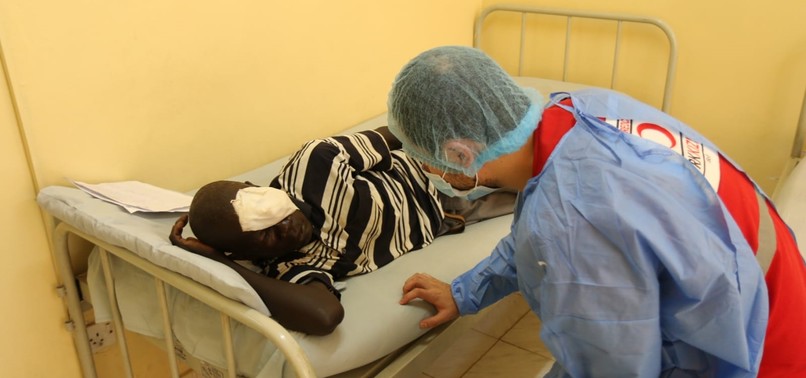 The Turkish Red Crescent, the country's leading charity, launched a new campaign in Sudan for eye surgeries. Treatment for hundreds of Sudanese people suffering from cataracts will be funded by the Red Crescent, which has expanded its operations in Africa and the world in the last decade
The Turkish Red Crescent, a prominent charity that has made a name for itself as one of leading humanitarian agencies of Turkey in the past decade, initiated a new project to help Sudanese people suffering from cataracts, an illness common in African countries.
In cooperation with Sudan's Health Ministry, the Red Crescent will finance eye surgeries for disadvantaged Sudanese patients. Some 400 patients were selected for the first stage of the project and the total number will reach 600.
The surgeries have already started in clinics at two hospitals in the Sudanese capital of Khartoum. According to the World Health Organization (WHO), cataracts cause nearly a third of worldwide blindness, affecting approximately 12.6 million people. Cataracts additionally cause moderate to severe vision loss in 52.6 million people, 99 percent of whom live in developing countries.
Africa is particularly affected by the disease whose causes vary from excessive exposure to sunlight to malnutrition. In most countries, cataracts, clouded lens tissue that blurs the vision and eventually leads to blindness, is easily curable. Lack of eye surgeons especially in less developed countries in Africa contribute to the increasing number of people with cataracts.
İsmail Hakkı Turunç, the deputy director of the Turkish Red Crescent, said that the charity has long been giving medical support to Sudan as well as organizing food aid and it was the first time that they launched a project to fight cataracts.
"There are tens of thousands of people suffering from cataracts in Sudan and more are diagnosed ever year. The Health Ministry here exerts great efforts to help them and we decided to back these efforts. Through our donors, we cover the costs of surgeries for Sudanese patients who cannot afford it. After surgeries for 600 people, we would like to help more," he said.
Abdulmumin Ahmet, 69, who lives in a village near Khartoum, is one of the dozens of people who underwent the surgery as part of the project.
"Due to cataracts, I had lost my sight for several years. I did not have the money to be treated. I pray for everyone who helped me regain my sight," Ahmet said.
Turkish charities are also active in Africa in cataract surgery projects and financed treatment of hundreds of patients in countries from Ethiophia to Somalia. Most recently, Turkey's Sadakataşı foundation deployed surgeons to Ethiopia who treated 420 cataract patients.
Relations between Sudan and Turkey have developed rapidly since President Recep Tayyip Erdoğan visited Sudan in December last year. Sudan even agreed to hand over an island to Turkey for rebuilding after Erdoğan's visit. The two countries enjoy ties dating back to the Ottoman era.