Long-awaited new airport in Istanbul to open with grand ceremony today
TURKEY
Compiled from wire services
Published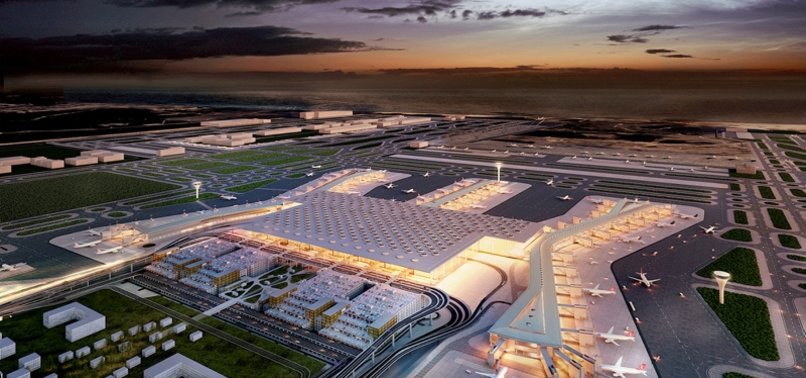 Final preparations have been completed in the first phase of Istanbul's giant new airport, set to be inaugurated with a grand ceremony today attended by President Recep Tayyip Erdoğan and leaders from around the world. The third in the city, Istanbul New Airport will replace Atatürk International Airport as the main flight hub in the country's most populated city. Built by a consortium of five contractors – Limak, Kolin, Cengiz, Mapa and Kalyon – the opening ceremony will kick off on the anniversary of the Turkish Republic's founding with over 50 high-ranking guests from at least 18 countries, including the president of the Turkish Republic of Northern Cyprus, the Qatari emir and Iran's foreign minister.
The project uses a build-operate-transfer (BOT) model that will provide over 26 billion euros ($30.65 billion) of revenue to the government.
Spread over an area of over 76 million square meters, the first phase of the airport will serve 90 million passengers. The total cost of the first phase is about 6 billion euros.
More than 10,000 people have been working on its construction. In addition, over 250 Turkish and foreign architects and more than 500 engineers are participating in the construction.
Transportation and Infrastructure Minister Cahit Turhan previously said that the first phase consists of a main terminal building with an annual capacity of 90 million passengers, a main air traffic control tower, two runways - one 3.75-kilometers and another 4.1-kilometers long - in the north-south direction where 60-meter wide A380 aircraft can land, a parking area capable of holding 347 aircraft, including 114 approaching the main terminal, airport support facilities providing hangars, a cargo warehouse, catering and ground services and a parking garage with a capacity of 18,000 vehicles.
The transfer of major flight operations from Atatürk to the new airport is expected to take place within 48 hours after the inauguration ceremony.
Reportedly, national flag carrier Turkish Airlines (THY) won't fly for at least the first 18 hours of the transition that will see 5,000 trucks carrying equipment heading to the new airport from Atatürk, which will be used for small-scale aviation operations once the transition is completed.
With the remaining phases to be completed by 2023, the airport is to host six separate runways with a capacity of 500 aircraft and an annual capacity of 200 million passengers.
It will be home to the world's largest duty-free shopping complex, at 53,000-square-meters, consisting of six sections, including luxury stores and bazaar concept shopping.
The airport's maiden voyage will be to the capital Ankara on Oct. 31, with the first international flight to the Turkish Republic of Northern Cyprus the following day.
By the end of the year, 2,000 planes are expected to transit through the airport every day to over 350 destinations by over 250 carriers.