We will raise our children with national, universal values, education minister says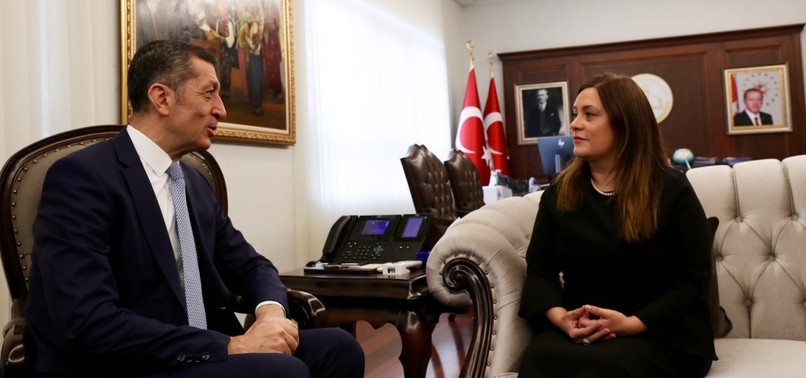 Turkey's educational system will be undergoing a comprehensive transformation that includes national and universal principles in a process that is expected to produce results by 2021, Education Minister Ziya Selçuk said in an interview with Daily Sabah
Education Minister Ziya Selçuk answered Daily Sabah's questions and elaborated on the details of the Vision 2023 plan for the Turkish educational system. "Education is not our biggest problem anymore, but it is our solution from now on," said Selçuk, hinting that the old paradigm on education will be left behind over the next three years. "By combining quality and success, we will be constructing a brand-new educational system to reach our country's 2023 goals," Selçuk added.
Pursuant to the Vision 2023 plan, which aims to put the country's economy in the world's top 10 by 2023, Selçuk highlighted the two main axes, national and universal values, that have been designated as the foundation of the new educational system.
"We will educate our children on two axes based on national and universal values. A human-centered universal approach is essential. We will start with it and then apply our national paint to it. We need to have a universal approach first. Then, it will be easier to add a national touch to it. If you give priority to a national approach [to reshape the education), it will not comply with a universal approach to education," Selçuk continued. Underlining the importance of melding both axes, Selçuk stated that the principle of civilization is that it does not spread to the cities from villages but to the villages from cities.
In relation to that, Selçuk said: "We are dealing with it like a seed and bread. Sustainability in such a huge job is essential. Our main concern is not to manage the Turkish educational system, as it is already being successfully governed. Our main goal is global competition. Our educational system must accommodate the production of competitive power."
With effective administrative efforts, the vast potential of Turkey could easily address the needs of the nation, Selçuk said, adding that it is essential to build on the country's already superb capacity. In that sense, he stressed that slowing the country's brain drain is essential. "To do this, first, we need to clean the house. If Turkey is strengthened, it would not only remain appealing to highly qualified Turks but would even attract sought-after professionals from abroad; however, if Turkey is weak, then the country's brain drain could increase," Selçuk indicated. Stressing that the Turkish educational system is vital for maintaining economic growth, Selçuk said: "We need three years to set up our system and make it operational. In three years, we will reap the benefits of it; after that, we will focus on the global competition."
NEW SYSTEM TO TRAIN STUDENTS BASED ON ABILITIES AND NEEDS
In accordance with the flexible model in the new system, Selçuk stressed that the ministry will completely solve the problems in foreign language education, which has traditionally been standardized. In relation to the issue he said: "Language should not be taught using methods from 40 years ago. Language training will be given according to the needs, the field of specialization and the person. Not everyone needs the same amount of language education. Some of them need more. The basic philosophy here is that language education will be given according to the group, purpose and need."
Indicating that time is needed for the Turkish educational system to improve, Selçuk said that the most important elements in this process are leadership and trust. In this context, "the most important guarantor of the system is President Recep Tayyip Erdoğan," Selçuk said.
"There are three factors that will help the educational reform succeed. These are President Recep Tayyip Erdoğan's strong leadership, our nation's support and Treasury and Finance Minister Berat Albayrak's words as 'as long as you do, we will find the source you need,'" Selçuk added. Accordingly, Selçuk underscored that there are misconceptions about the educational system, especially regarding examinations designed to detect gaps in the curriculum. This system is expected to improve when new regulations are put in place, he said.
Citing the quality differences among schools in continental Europe, Selçuk emphasized the importance of reducing the gaps, of which sometimes equal a 60 percent drop in effectiveness.
"What we have to do is equalize access to facilities and quality. We will scrutinize schools according to 24 parameters. We will eliminate them by analyzing their needs and requests separately. We will pay special attention to disadvantaged schools and switch to a new system where we reduce differences that arise from the means. We also plan to reduce the number of exams to relieve the pressure on the students," Selçuk continued.
Likewise, for the language-training model, Selçuk said they will plan the schools' layouts and curriculum according to the students' future professions. In that sense, the staff will be trained regarding the needs of the students.
"We are moving to an on-the-job training-centered approach. We have conducted a joint study with the Council of Higher Education [YÖK] regarding the transition from vocational education to higher education. In this context, we have established vocational high schools with in Turkish Aerospace [TAI] and ASELSAN. We will revive the master-apprentice relationship in education. Every teacher will be a student's coach," Selçuk added. Stating that the new system will be realized with a philosophy that reflects the educational models of universities, Selçuk said the students will be trained in workshop environments starting in the first grade, adding that in these workshops, the students will be trained in package programs in the areas where they want to specialize. "There will be workshops in sports, arts, medical sciences, engineering and social sciences. At the moment, we can say that we are getting the students to dig the pits; somehow, they dig the wells, but they cannot extract water. We're putting an end to that trend. The children we raise pursuant to their abilities will be qualified individuals and will become the locomotive power of the country's economy. Three years is enough for us. In three years, we will generate a brand-new, successful and acclaimed system with productive output," Selçuk proclaimed.
An offer from President Erdoğan started his journey
Selçuk conveyed details about his personal journey when he first took an offer from President Recep Tayyip Erdoğan to be a minister of education. "I was very honored when Mr. President offered me this duty, but I conveyed my demands and things that I wanted to do. He listened to me with great patience and interest. The next day, he said, 'We should work together.' This is the whole nation's issue and the country's assignment, and there is a need for strong leadership. This is why I accepted this post because I felt I could handle this leadership. I look at this issue from this perspective and try to take care of every child as if they were my own."

Daily Sabah / Nur Özkan Erbay