Turkish, Kazakh presidents discuss fight against FETO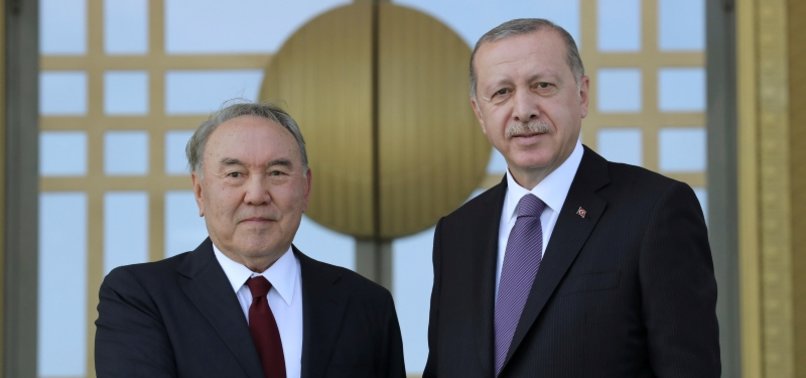 President Recep Tayyip Erdoğan and his Kazakh counterpart Nursultan Nazarbayev on Thursday exchanged views on fighting against the Fetullah Terrorist Organization (FETO).
In a joint news conference with Nazarbayev in the capital Ankara, Erdoğan emphasized on how serious a threat the FETO poses not only in Turkey, but other nations as well.
"During our meetings, we have revealed all aspects of the threat that this organization poses against our nation and all the countries, where it operates, and appointed our relevant friends [to deal with the threat]," Erdoğan said.
The news conference followed a closed-door meeting between Erdoğan and Nazarbayev and the Turkey-Kazakhstan High-Level Strategic Council Meeting.
The two leaders exchanged views on several bilateral cooperation topics, including economy, trade, defense, culture, and education, according to Erdoğan.
Erdoğan said he believed Turkey and Kazakhstan will carry their deep-rooted relations further to the future by getting stronger.
For his part, Nazarbayev congratulated Erdoğan on his win on June 24 elections.
"Kazakhstan backs Turkey's policy in the international arena," Nazarbayev said.
Stating that Turkey and Kazakhstan share same views on regional and global matters, Nazarbayev said the cooperation between the countries "based on common history and moral richness continues."
"During my visit [to Turkey], we've signed bilateral projects cost $2 billion. We need to put our efforts to carry these into effect," he said.
The Kazakh president also said the goal is to raise the trade volume with Turkey to $10 billion, and both governments will work in that direction. " Our governments will work in this direction."
The two countries also signed five agreements in the fields of military, economy, culture, tourism, and agriculture.