Erdoğan, Maduro discuss bilateral ties ahead of OIC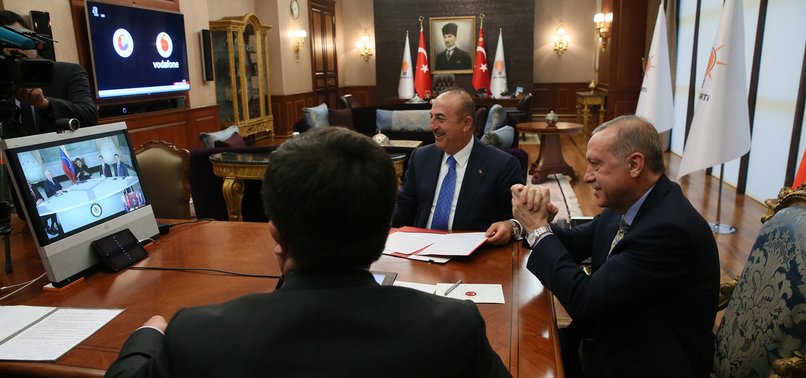 President Recep Tayyip Erdoğan spoke over the phone with his Venezuelan counterpart Nicolas Maduro on Thursday to discuss bilateral ties and regional issues.
President Recep Tayyip Erdoğan and Venezuelan President Nicolas Maduro held a conference call on Thursday to discuss a range of issues, including the upcoming presidential elections in both countries, bilateral relations and the Extraordinary Summit of the Organization for Islamic Cooperation (OIC) in Istanbul.
In the call, Erdoğan said he hoped the presidential elections set to be held on May 20 in Venezuela will be held in an atmosphere of peace and will prove beneficial for the country, reminding that Turkey, too, will be holding elections on June 24.
He added that an official visit to Venezuela was among his top priorities after the elections.
The Turkish president wished his Venezuelan counterpart success in the polls before thanking Maduro for his participation in the OIC summit set to be held in Istanbul today.
The previous extraordinary meeting of the OIC was also hosted by Erdoğan and held in December last year to denounce U.S. President Donald Trump's decision to recognize Jerusalem as the capital of Israel. Venezuela had also joined the meeting, showing solidarity with Turkey.
Maduro said he was closely following the developments in the Middle East, adding "We are supporting all Muslim countries and Palestine, particularly with all that has happened in Palestine recently."
The Venezuelan president also said he was pleased that the strategic relationship between the two countries continues to flourish with closer contacts.

TRADE AGREEMENT
During the conference call, Turkey and Venezuela signed an agreement to boost bilateral trade between the two countries.
"By expanding its scope, we aim for this agreement to be turned into a free trade agreement as soon as possible," Erdoğan told.
"I am very glad to see our trade volume in the first three months of 2018 topped a half-billion dollars. I believe this figure will reach $2 billion by the end of the year," he said.
The Venezuelan president also said Turkish Airline's Caracas-Istanbul flights will further improve ties between the two countries.