MHP head Bahçeli calls for snap election on August 26, 2018
TURKEY
Agencies and A News
Published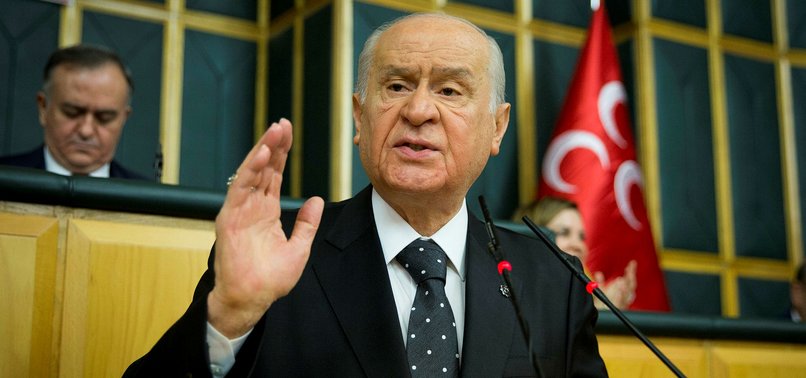 Turkish nationalist opposition MHP party leader Devlet Bahçeli suggested on Tuesday bringing forward presidential election to August this year, more than a year before the November 2019 scheduled date.
Speaking during a weekly meeting of his party at the Grand National Assembly of Turkey in the capital Ankara, Turkish opposition party MHP leader Devlet Bahçeli called for an early election on Aug. 26, 2018.
Bahçeli cited "economic and political operations against Turkey" and said it was difficult for the country to "stand current circumstances" until November 2019.
"It should be known that the MHP wants early elections after the adjustment laws are enacted," said Bahçeli, speaking at the party's parliamentary group.
"Electing the president on Aug. 26,..., is the most rational and reasonable way forward," he said.
On April 16, 2017 Turkey held a referendum which asked voters to decide on an 18-article bill to switch from a parliamentary to a presidential system.
The parliamentary and presidential elections are scheduled to take place in November 2019.
Later, speaking to journalists before his parliamentary group meeting, President Recep Tayyip Erdoğan said he would meet Bahçeli on Wednesday.
Also, Deputy Prime Minister Bekir Bozdağ told reporters that the MHP's call for early elections would be evaluated.
Bahçeli also called for punishing Bashar al-Assad after the suspected chemical attack in Douma in Syria's Eastern Ghouta.
- ASSAD MUST FACE ACTION
The opposition party leader said: "Assad should be punished. There is nothing to say for it."
He said Assad must face consequences for his regime's murders.
Bahçeli 's remarks came after the U.S., U.K., and France early Saturday launched airstrikes on alleged Assad regime chemical weapons facilities in Syria.
He also criticized the U.S.-led coalition for being late in "hearing the humanitarian crimes in Syria".
"Using chemical weapons is surely a crime against humanity. While the more major incidents had been experienced in Syria, where were the heads of the U.S., U.K. and France? What was the UN doing?" he asked.
"They have other aims under the guise of punishment for the [Syrian] regime," said Bahçeli .
Syria has been locked in a vicious civil war since 2011 when the Assad regime cracked down on pro-democracy protests with unexpected ferocity.
Since then, hundreds of thousands of people have been killed in the conflict, according to UN figures.