38 terrorists 'neutralized' by Turkish forces over last week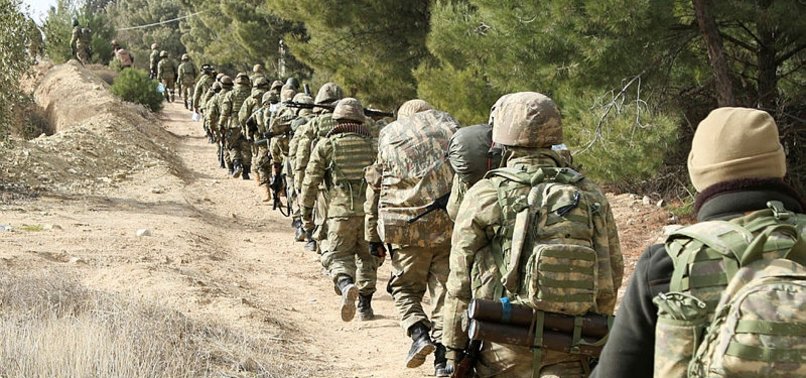 A total of 38 terrorists were "neutralized" as part of counter-terror operations held across Turkey over the past week, the Interior Ministry said on Monday.
Turkish authorities often use the word "neutralized" in their statements to imply that the terrorists in question either surrendered or were killed or captured.
In a statement, the ministry said security forces had carried out 487 counter-terrorism operations on April 9-16.
The ministry specified that 18 of the terrorists were killed, six were captured, and 14 surrendered to authorities.
During the operations, 149 people were also arrested for allegedly aiding and abetting the PKK terrorist group and 75 others for their suspected links to the Daesh terrorist group.
The PKK -- listed as a terrorist organization by Turkey, the U.S. and the EU -- resumed its armed campaign against Turkey in July 2015.
Since then, it has been responsible for the deaths of more than 1,200 Turkish security personnel and civilians, including a number of women and children.
Another 702 people were arrested over alleged links to the Fetullah Terrorist Organisation (FETO) and 21 others over links to leftist terrorist groups.
FETO and its U.S.-based leader Fetullah Gulen orchestrated the July 2016 defeated coup, which martyred 250 people and injured nearly 2,200.
- 28 TERRORIST SHELTERS DESTROYED
During the operations, the security forces also destroyed 28 shelters, among them a number of caves, and two hand-made explosives in operations held in the eastern Tunceli, Şırnak, Bitlis, Hakkari, Mus, Van, and Bingöl provinces, the statement said.
In addition, 1,145 tons of ammunition, seven hand-grenades and 18 weapons were seized.
According to the statement, 2,697 anti-drug raids were conducted across the country, which led to 467 arrests.
A total of 5,522 people were also held across the country in the fight against irregular migration. The operations saw 164 suspects arrested for aiding the illegal crossings, the statement added.