Turkish deputy PM receives Sudan's economy minister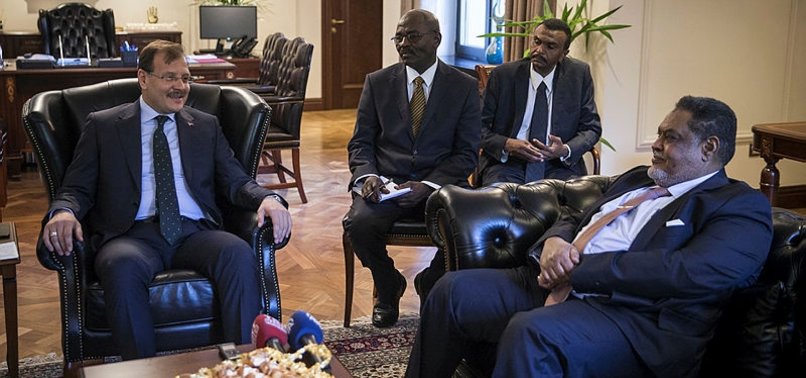 "Turkey will do 'whatever is necessary' to increase its trade volume with Sudan", Deputy Prime Minister Hakan Çavuşoğlu said on Monday.
Çavuşoğlu received Sudanese Economy and Finance Minister Mohamed Osman al-Rikabi and his delegation at Çankaya Palace in Ankara.
Çavuşoğlu said Sudan is one of Turkey's key partners in Africa.
"The current trade volume -- $400 million -- between the two countries does not reflect the real potential. As both our presidents targeted, we will do whatever is necessary to reach a trade volume of a billion dollars between Turkey and Sudan," Çavuşoğlu said.
He said the agreements between the two countries on transportation, agriculture, energy and social projects will strengthen the two countries' business partnership.
"On July 15, 2016 after the coup attempt by [Fetullah Terror Organization] FETÖ members, Sudan immediately handed over two schools that belonged to the FETÖ group to our Maarif Foundation. I would like to thank you and Sudanese people for that," he said.
In regards to Suakin island, Çavuşoğlu said that Turkey's goal was to turn the island into a "center of attraction".
The Turkish Cooperation and Coordination Agency (TİKA) started restoration works on Sudan's Suakin Island after President Recep Tayyip Erdoğan visited the country in December.
The island's Ottoman-era Al-Hanafi and Al-Shafei mosques, and an old customs building will be restored by the agency.
In the past, Suakin, one of the oldest seaports in Africa, was used by African Muslims on pilgrimages to Saudi Arabia.
Ottomans used the port city to secure the Hejaz province -- present-day western Saudi Arabia -- from attackers using the Red Sea front.
"We wish that the Suakin island will be opened for tourism and become a trade center. This is also the goal of our two presidents," said Sudan's al-Rikabi.
The Turkish deputy prime minister also thanked Sudanese people for their support for the ongoing Operation Olive Branch in Syria's northwestern region of Afrin.
Al-Rikabi said he wished that projects between Turkey and Sudan would increase rapidly.