Turkey says concerned about PKK attacks in Germany, sends diplomatic note to Berlin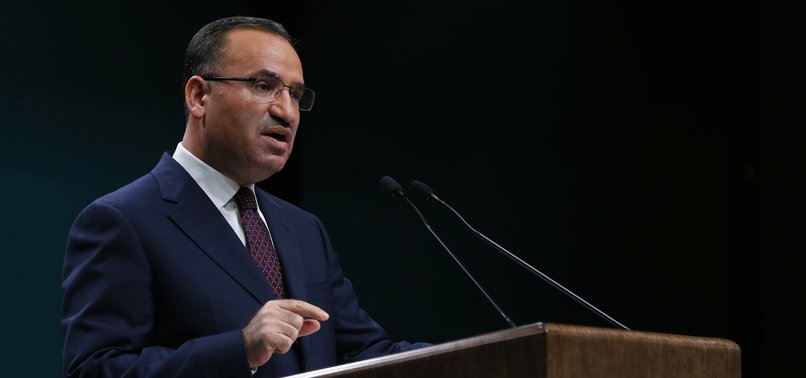 Turkey is greatly concerned about the latest PKK attacks in Germany, and expects the German government to do its utmost to ensure the safety of the Turkish community, government spokesman Bekir Bozdağ said late Monday.
"We are calling on the German government to be more sensitive about the safety of its Turkish citizens, and bring terrorists to justice," he said.
The official also added that the Turkish government has sent a diplomatic note to Germany over the recently escalating PKK aggression in the country.
A Turkish mosque in German capital Berlin was set on fire early Sunday in the latest incident of a series of attacks targeting the country's Turkish and Muslim community by PKK sympathizers and far-right groups.
The suspected attack was the final incident in hundreds of attacks that targeted the country's Turkish and Muslim communities amid a rising far-right trend after a massive refugee influx. There were 950 attacks in Germany last year on Muslims or places linked to Islam, according to the interior ministry.
Attacks by PKK sympathizers gained pace after the launch of Turkey's Operation Olive Branch to root out PKK-affiliated People's Protection Forces (YPG) terrorists in Afrin on Jan. 20. Numerous mosques and Turkish community centers in several German cities and even the Turkish embassy in Berlin have been attacked by YPG/PKK supporters.
On Saturday, a webpage affiliated with the PKK and its Syrian offshoot the Democratic Union Party (PYD) has posted a video footage of an attack early Friday on a mosque in southwestern Germany.
The PKK has been banned in Germany since 1993, but it remains active, with nearly 14,000 followers among the country's Kurdish immigrant population.
Turkey has long criticized Germany for not taking serious measures against the PKK, which uses the country as a platform for their fund-raising, recruitment, and propaganda activities.
Germany has a three million-strong Turkish community, many of whom are second- and third-generation German-born citizens of Turkish descent whose grandparents moved to the country during the 1960s.