Turkey has 'best' opportunities for Japanese firms: Zeybekçi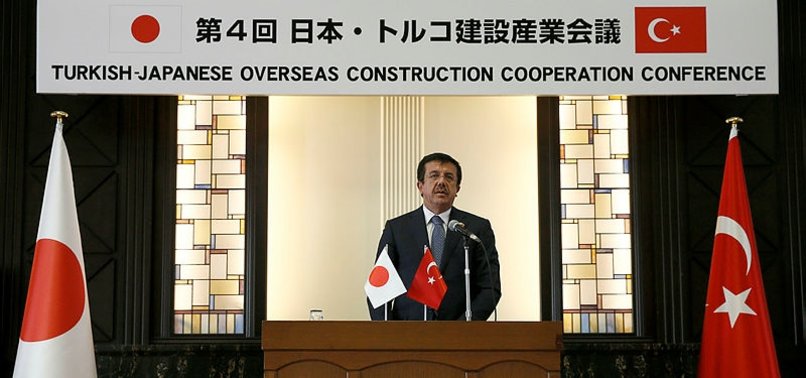 Turkey has "best" opportunities for the Japanese firms, Economy Minister Nihat Zeybekçi said on Monday.
"Turkey is a country that has best opportunities for the Japanese firms in the world," Zeybekçi said at a seminar titled "Turk-Japan Construction Cooperation" in the capital Tokyo.
Zeybekçi said Japan firms will earn more while investing in Turkey compared to other countries by taking into consideration Turkey's 81 million of population.
"Turkey is not limited to its geography," he said, adding the country is in the middle of Africa, Middle East, Central Asia, Caucasus and the Balkans.
"Turkish companies offer such a wide geography as an opportunity to their Japanese partners," he added.
Zeybekçi believes if Turkey and Japan come together, the duo will "easily" leave China behind in important markets since they have technological and financial opportunities.
After the seminar, Zeybekçi and Japanese Land, Infrastructure, Transport and Tourism Minister Keiichi Ishii signed a memorandum of understanding on construction services in the third countries.
According to Turkish Foreign Ministry, 200 Japanese companies operate in Turkey, while five Turkish companies operate in Japan at the end of 2017.The Japanese foreign direct investment in Turkey was $2.2 billion for the period between 2002 and 2017, it added.
During his two-day working visit to Tokyo, Zeybekçi also met Japanese Minister of Economy, Trade and Industry Hiroshige Seko and attended Turkey-Japan Trade and Investment Summit.
Addressing the summit, Zeybekçi said the bilateral trade volume between the two countries was $4.7 billion in 2017, while Turkey's export to Japan was $412 million.
"Japan invests 10 times more in Turkey. We are not disturbed by this, we are just after increasing Turkey's export," he added.
Zeybekçi said the investment of Japanese companies in Turkey is an opportunity for Tokyo to expand to the markets in Europe and in other regions.
"I believe that 2018 would be a year of opportunity for the relations between the two countries," he added.