Turkey expects Washington to stop shifting YPG terrorists to Syria's Afrin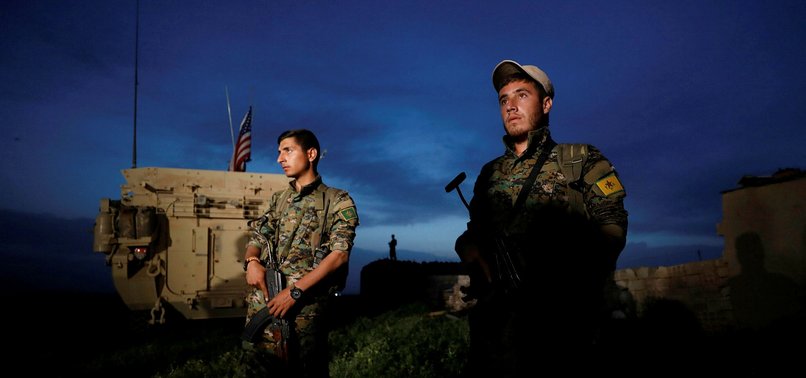 İbrahim Kalın, the presidential spokesman, has drawn attention to Turkey's expectations from the U.S., and saying that "The U.S. must certainly step in and halt the shifting of YPG/PYD forces, which moves under its control, in Manbij to Afrin. This is our natural right."
Turkey expects the U.S. to stop "shifting" YPG/PKK terrorists from Manbij to Afrin in Syria, presidential spokesman İbrahim Kalın said Wednesday.
Speaking to reporters at the presidential complex in capital Ankara, Kalın said: "With this regard, we [Turkey] took the necessary steps via official channels, and we will continue to take [such steps].
"It is particularly expected [by Turkey] that the U.S. must certainly step in and halt the shifting of YPG/PYD forces, which move under its control, in Manbij to Afrin. This is our natural right."
The U.S. and PYD/YPG/PKK forces, who have been receiving American weapons and support, are stationed in Manbij; the U.S. forces there have resisted Turkey's calls for them to leave.
On Jan. 20, Turkey launched Operation Olive Branch to clear YPG/PKK-Daesh terrorists from Afrin, northwestern Syria.
According to the Turkish General Staff, the operation aims to establish security and stability along Turkey's borders and the region as well as to protect Syrians from terrorist oppression and cruelty.
Turkey has also pledged to launch a military operation against YPG/PKK terror group in the strategically important city of Manbij that lies to the west of the Euphrates River in northern Syria, as part of the ongoing operation.
Manbij lies northeast of Aleppo and just south of the Turkish border.
Washington has voiced concerns about the safety of U.S. troops in Manbij amid Turkey's operation in northeastern Syria. There are about 2,000 American soldiers in Manbij.
- TALKS WITH IRAN
Kalın also announced that President Recep Tayyip Erdoğan would talk to his Iranian counterpart Hassan Rouhani over the phone on Wednesday afternoon.
"We expect to see a significant calming [in tensions in Eastern Ghouta region] in the next few days, as per Mr. [Russian President Vladimir] Putin's instructions. It will be our main topic in the phone call," he said.
A trilateral summit of leaders from Turkey, Russia, and Iran is expected to be held on April 4 in Istanbul.
The main topic on the agenda of the leaders' summit is expected to be Syria.
Kalın also said Turkey had been "using every means possible" in order to achieve results in Eastern Ghouta, including humanitarian aid and diplomatic efforts led by Erdoğan.
On Tuesday, Erdoğan and Putin spoke over the phone about the ongoing human tragedy in the besieged Damascus suburb and other developments in Syria.
- EX-PYD/PKK LEADER
On the arrest and quick release of Salih Muslum, former co-leader of terrorist PYD/PKK group, in the Czech capital, Prague, Kalın criticized Europe for letting him walk free.
"What does it mean when Europeans allow a person whom Turkey recognizes as a terror group member to walk freely in European capitals and streets? They should ask themselves that."
Muslum, an influential figure in the PYD/PKK terrorist group, is being sought by a Turkish court on suspicion of his involvement in the planning of a deadly terrorist attack carried out in Ankara in 2016.
He was last spotted in Berlin on Saturday, where he also participated in a demonstration organized by supporters of PYD/PKK terrorists.
- RACIST DEMONSTRATIONS IN GREECE
The presidential aide also "vehemently condemned" the burning of a Turkish flag during a rally against Turkey that had been organized by a racist political party in Athens on Monday.
"We have also taken initiatives in this regard. I want to express our expectation from the Greek authorities to immediately find the offender and take them to court," Kalın said.
"There may be differences of opinion between countries, there may be different interpretations, but it is a hate crime to burn the flag of a country."