Macron urges Putin to press Syrian regime on Eastern Ghouta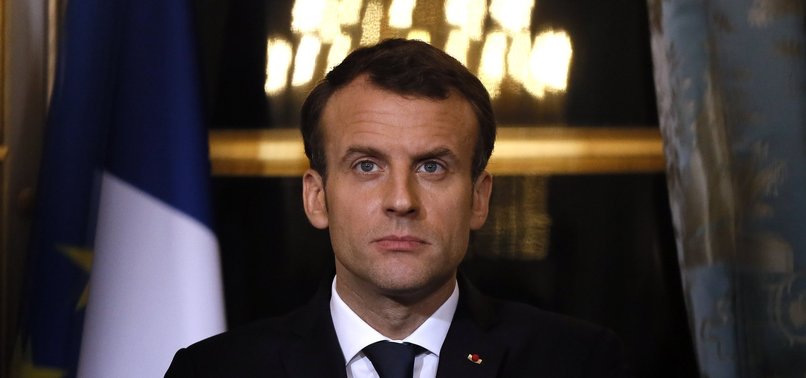 French President Emmanuel Macron urged on Monday his Russian counterpart Vladimir Putin to pressure the Syrian regime to implement "without any ambiguity" the UN Security Council resolution calling for a 30-day cease-fire in Syria's besieged eastern Ghouta region.
In a phone conversation, Macron told Putin it was necessary "for Russia to take real and concrete measures" so that the Syrian regime -- Moscow's close ally -- "unambiguously accepts the implementation of the UN Security Council 2401 Resolution, and immediately stops the indiscriminate bombing and the siege against civilians," said a statement issued by French presidency.
"Acknowledging that armed opposition groups have accepted the humanitarian truce, and the inadequacy of the five-hour humanitarian 'pause' decided by Russia, President Emmanuel Macron stressed that humanitarian convoys must be able to reach all populations in need, unhindered and without further delay," the French president's office said.
"Noting that no evacuation of the wounded and sick was at this stage authorized by the [Syrian] regime, and that the cease-fire was not respected" the French leader called on Russia "to assume all its responsibilities to demonstrate the full credibility of its commitments."
Eastern Ghouta, a Damascus suburb, has been under siege for the last five years and humanitarian access to the area, which is home to some 400,000 people, has been completely cut off.
In the past eight months, forces of the Assad regime have intensified their siege of eastern Ghouta, making it nearly impossible for food or medicine to get into the district and leaving thousands of patients in need of treatment.
On Friday, UNICEF's Middle East and North Africa regional director Geert Cappelaere said they had received approval from the Assad regime to dispatch humanitarian supplies for 180,000 civilians trapped in the area.
On Feb. 24, the UN Security Council adopted a resolution calling for a 30-day cease-fire in Syria without delay.
Despite the UN cease-fire resolution, around 756 people have been killed in regime attacks in the besieged areas in the past two weeks, according to White Helmets civil defense agency.